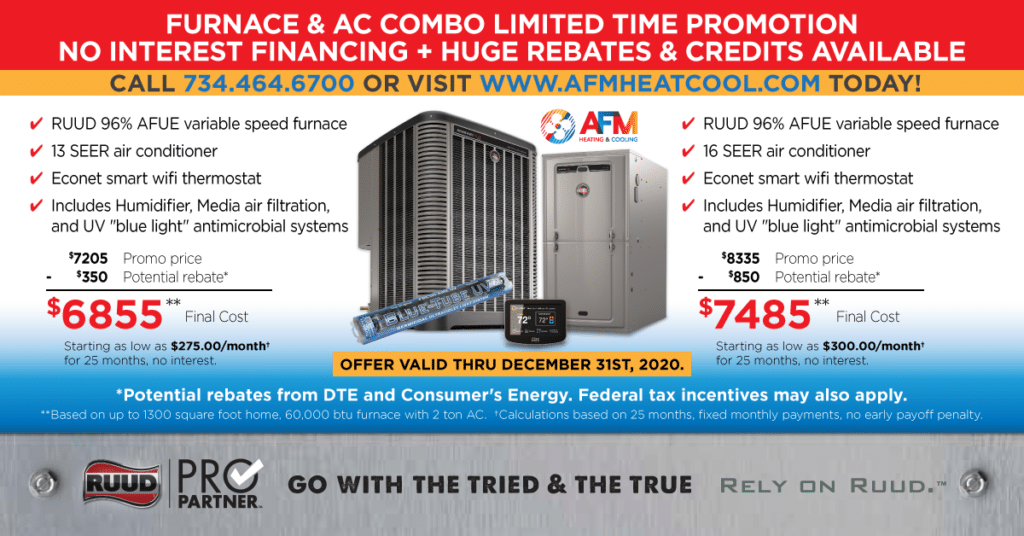 If your HVAC systems are approximately the same age, even if they're not all that close, it's a good idea to really consider having them replaced together to guarantee their maximum efficiency and long-term cost-saving abilities – and there's never been a more perfect time than now! At AFM Heating & Cooling, we are currently offering an incredible limited time promotion that allows you to save big, with no interest financing, when you purchase a new high efficiency furnace and a new air conditioner together.
Why purchase both systems at once? Even without this incredible opportunity to save a ton of money, it's always more beneficial to replace both your heating and cooling systems at the same time. For one, having one new system and one old is going to seriously impact overall HVAC performance, leading to more frequent repairs and potentially shorter lifespans. Plus, paying double in labor/installation costs when you can get everything your need replaced in one day just doesn't make sense. By simply getting two new systems at once, you can spare yourself the blows to your budget while simultaneously improving your air quality and protecting your systems. You'll even save more in your utility costs in the process!
Sound too good to be true? You haven't even heard the best part! Right now, you can get a RUUD 96% AFUE variable speed furnace, a 13 SEER air conditioner, an Econet smart Wi-Fi thermostat, a humidifier, and Media air filtration and UV "blue light" antimicrobial systems all with a potential rebate worth more than $300 for a total that will cost you less than $275 per month for only 25 months. Or, you can splurge and upgrade to a 16 SEER air conditioner for a potential rebate worth more than $800, and still only pay $300 per month! Best of all, there are no penalties whatsoever for paying off your systems early if you're able. In fact, we encourage you to do whatever's going to be best for your family.
All we ask is that you hurry and get ready to save because this offer is only valid through December 31st, 2020, and you do not want to miss out! Want to learn more? Please, don't be shy! Reach out to one of our seasoned HVAC experts at AFM Heating & Cooling today by calling 734.464.6700 to discuss your property's unique heating and cooling needs so we can do our best to guarantee your satisfaction – and savings – right from the start!