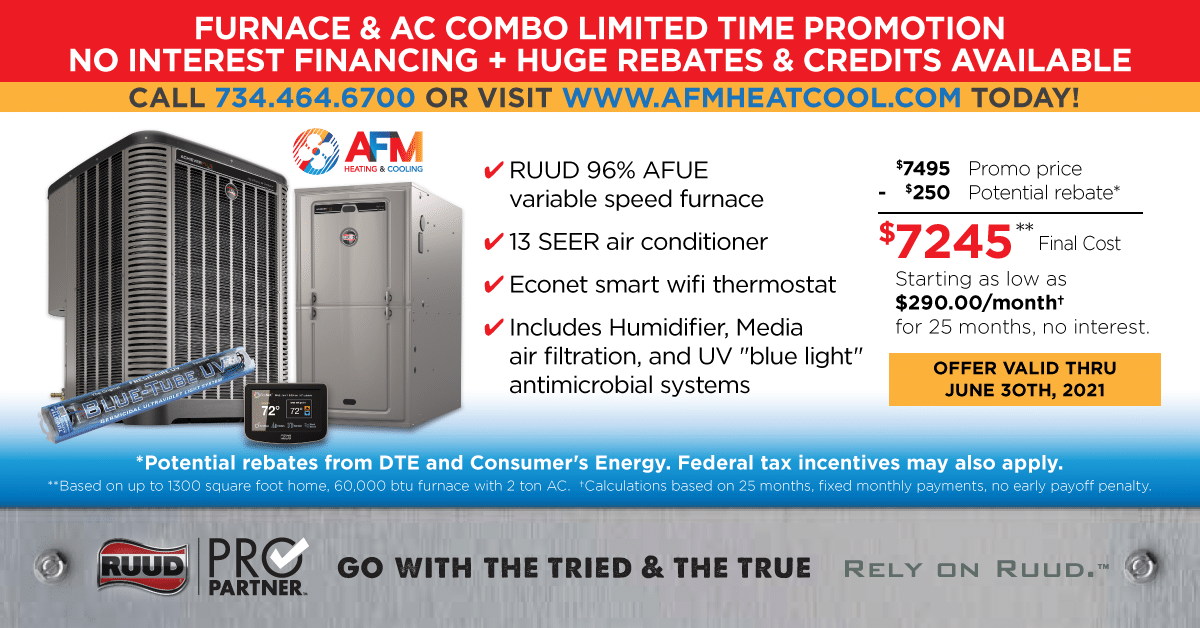 Need an incredible new furnace to help you weather Michigan's long frigid winters? What about a new AC unit to make sure you have a safe retreat from the heat on the hottest days of summer? Because if you need either, it might just be a whole lot cheaper, and a whole lot more convenient, to get both at once right now thanks to the latest incredible deals we've got going on here at AFM Heating & Cooling!
Limited Time Offer: Expires June 30th, 2021
For a limited time only, meaning though June 30th, 2021, you can now get no interest financing for 25 whole months, absolutely humongous rebates (including potential rebates from DTE and Consumer's Energy) here at AFM Heating & Cooling when you choose to purchase a new furnace and AC combo. The combo includes a top-of-the-line RUUD 96% AFUE variable speed furnace, a 13 SEER air conditioner, an Econet smart Wi-Fi thermostat, a humidifier, Media air filtration, and UV "blue light" antimicrobial systems to ensure the comfort and cleanliness of your home well into the future. And that's on top of the fact that federal tax incentives may also apply. That means, between our promo prices, and your potential rebates, you could come out on top with a final out-of-pocket cost under only $7,300!
Why Splurge On A Combo At All?
The benefits to getting your heating and cooling systems replaced at the same time are incalculable. On top of the immense inevitable savings you're bound to experience, getting everything replaced at once and making sure both your systems are equally efficient also means never having to worry about one unit dragging down and compromising the efficiency of the other ever again. It means no need for more frequent repairs, or decreasing the overall longevity of your newer system. Plus, when you hook your new systems up with our unbeatable annual maintenance plans, you can save even more throughout the year on routine services you'd need to keep you systems in great shape anyway! So what are you waiting for?
Get Your New Furnace + AC Combo With Zero Interest at AFM Heating & Cooling!
Whether you have more questions about our potential savings, or you're ready to set up your appointment to have your new furnace + AC combo installed, feel free to get in touch with AFM Heating & Cooling as soon as possible. The sooner you do, the more time we have to make sure your property is in the best shape it's ever been in! Reach out to one of our seasoned HVAC experts at AFM Heating & Cooling today by calling 734.464.6700 to discuss your property's unique heating and cooling needs so we can do our best to guarantee your satisfaction – and savings – right from the start!