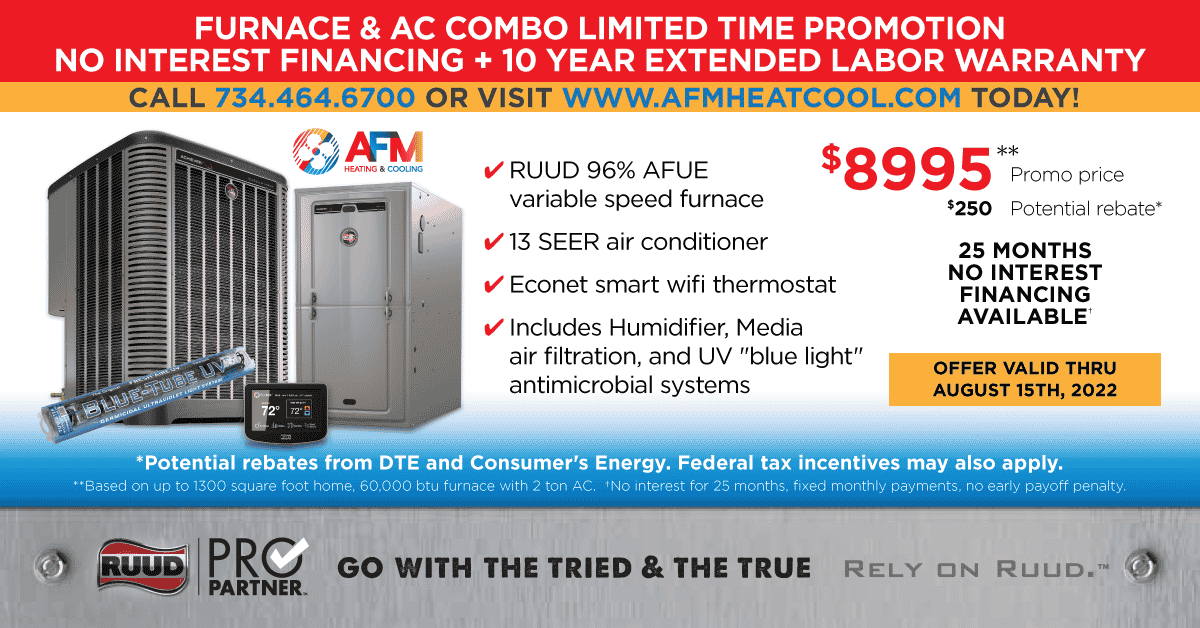 Limited Time Offer Expires August 15, 2022
It's that time of year again at AFM Heating & Cooling. Our Spring & Summer 2022 Special, which this year includes a new furnace/AC combo and more with no-interest financing, is finally here. It's for a limited time only, though, so don't let this amazing opportunity go to waste!
Whether both of your HVAC systems are starting to show their age or it's just one of your systems that's constantly underperforming or in need of repair, choosing to replace both your furnace and AC together is a wise investment. Pairing equally efficient new furnace and AC systems together helps maximize the performance of each to improve their long-term efficiency. If you're thinking of selling your property any time soon, upgrading both HVAC systems can also be a huge selling point that boosts the value of your property. Plus, if it's been a while since you replaced your furnace or AC, you will finally have the chance to take advantage of some of the industry's latest technology and features, like the Econet Smart Wi-Fi thermostat.
AFM Heating & Cooling has made it easy by offering you everything you need to get your property's HVAC completely upgraded for one low price. Until August 15, 2022, our Spring & Summer Special includes a RUUD 96% AFUE variable speed furnace, a 13 SEER air conditioner, and the innovative Econet smart Wi-Fi thermostat all for less than $9,000. Not including the additional rebates and federal tax incentives you may become eligible for by upgrading to newer, higher-efficiency HVAC systems. If the advanced humidifier, media air filtration, and UV "blue light" antimicrobial systems aren't enough to convince you to take the leap, surely 25 months of zero interest will!
With no penalties for paying off early and the chance to earn up to $250 in rebates, on top of all the benefits that naturally come with having brand new, supremely efficient HVAC systems protecting your property, there's really no reason to hold back. AFM Heating & Cooling will help you save big on a brand-new furnace and air conditioner combo you'll love and give you access to all the maintenance and repair services you'll ever need to keep them in optimal condition for years to come.
This limited-time Spring & Summer Special available only at AFM Heating & Cooling won't last long, so the time to reach out is now. The sooner you do, the sooner we can start helping you save big on your year-round heating and cooling! Reach out to one of our seasoned HVAC experts at AFM Heating & Cooling today by calling 734.464.6700 to discuss your property's unique heating and cooling needs so we can do our best to guarantee your satisfaction – and savings – right from the start!