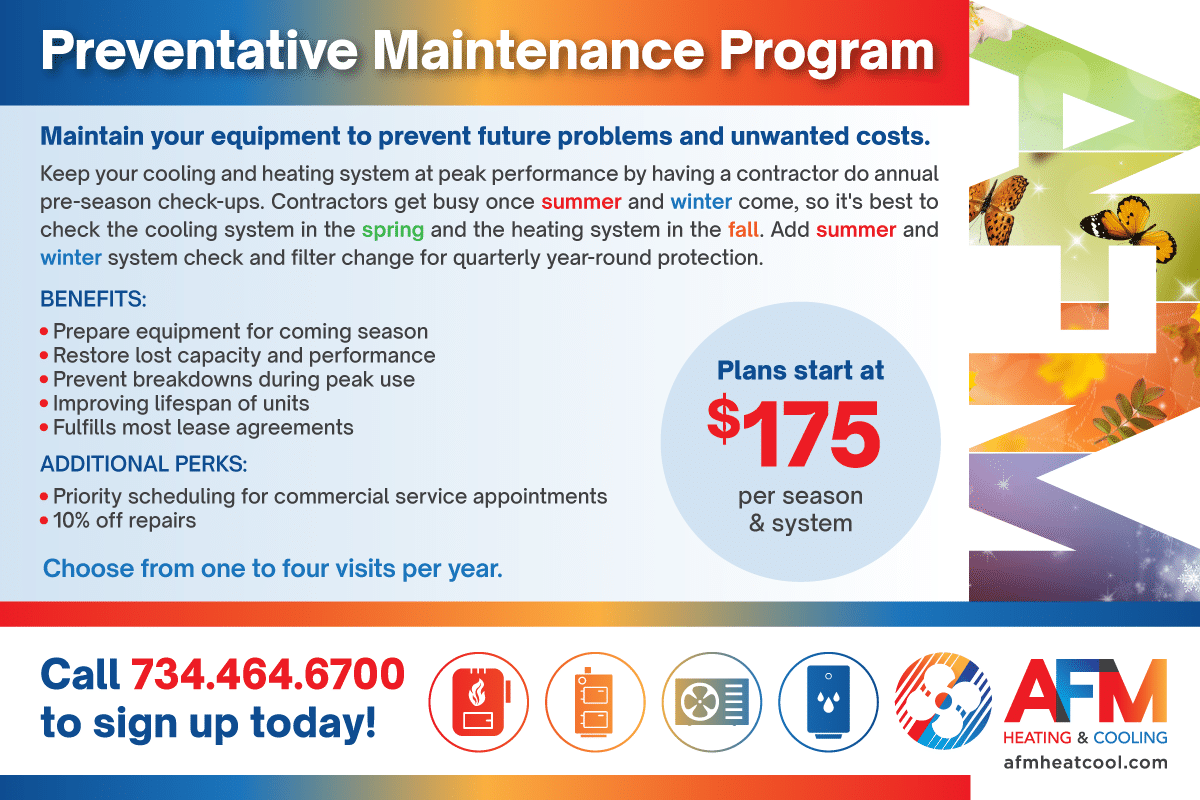 Choose from one to four visits per year.
Maintain your equipment to prevent future problems and unwanted costs. Keep your cooling and heating system at peak performance by having a contractor do annual pre-season check-ups. Contractors get busy once summer and winter come, so it's best to check the cooling system in the spring and the heating system in the fall. Add summer and winter system check and filter change for quarterly year-round protection.
Fall Maintenance work performed includes but not limited to:
Inspect furnace and thermostat for proper cycle operation
CO test of heat exchanger integrity
Inspect air filters, clean or replace as required
Replace applicable belts once annually
Inspect/clean gas pilot or igniter and flame sensor assembly
Inspect draft inducer motor for proper operation
Inspect and test furnace safety controls
Inspect drain lines for proper unobstructed flow
Inspect appliance gas shutoff valve for proper operation
Inspect gas lines and fittings for gas leaks
General cleaning of debris and combustible materials
Spring Maintenance work performed includes but not limited to:
Inspect blower and condenser motors for proper operation
Replace applicable belts once annually
Inspect and clean condenser and evaporator coils per manufacture recommendation
Check for proper refrigerant operating pressures
Add refrigerant as necessary at current rate
Inspect air filters, replace as required
Inspect drainage system for proper unobstructed flow
Inspect electrical connections
Check condenser fan capacitor
Inspect/ clean contactor
Adjust/set manual OSA Economizer if applicable
Verify proper unit and thermostat cycle operation
Mid Summer/ Mid Winter Filter replacement plus test of system operation.
At initial inspection, we compile equipment and filter/belt information.
Benefits
Prepare equipment for coming season.
Restore lost capacity and performance.
Prevent breakdowns during peak use.
Improving lifespan of units.
Fulfills most lease agreements.
Perks
Priority scheduling for commercial service appointments.
10% off repairs.
Plans start at $175 per season and system. Annual amount billed in quarters. Call 734.464.6700 to sign up, today!