Are you looking for air conditioning installation Ann Arbor MI?
During the summer, the last thing you want is for your air conditioning to suddenly stop working. Although, the good news is, if it already has, or is on its last leg and you think it's about to, solving your problem is as easy as giving our seasoned installation technicians at AFM Heating & Cooling a call. Our air conditioning installation experts already possess more than 50 years of combined experience helping clients in more than 5,000 residential and commercial properties across the region maximize their air quality and comfort, and we know we can help you too. Best of all, our air conditioning installation specialists know everything there is to know about optimizing the efficiency virtually any and every popular HVAC brand. Furthermore, your needs and priorities are always our number one concern. In fact, our air conditioning installation specialists are committed to making sure our clients are never waiting around for hours wondering when help will arrive. We will always give you a precise timeframe of when we're coming, and call you 30 minutes before our air conditioning installation team's arrival so that you know exactly when to expect us. All you have to do is sit back, relax, and do your thing while our ingenious air conditioning installation connoisseurs do their thing. Of course, before your property in Ann Arbor can start reaping the many benefits of a brand new HVAC system, you have to trust AFM Heating & Cooling first!
We install RUUD brand air conditioners, and we service nearly every make and model of furnace: Ruud, Tempstar, Rheem, Trane, Amana, American Standard, Carrier, Bryant, Lennox, Heil, Goodman, York and more.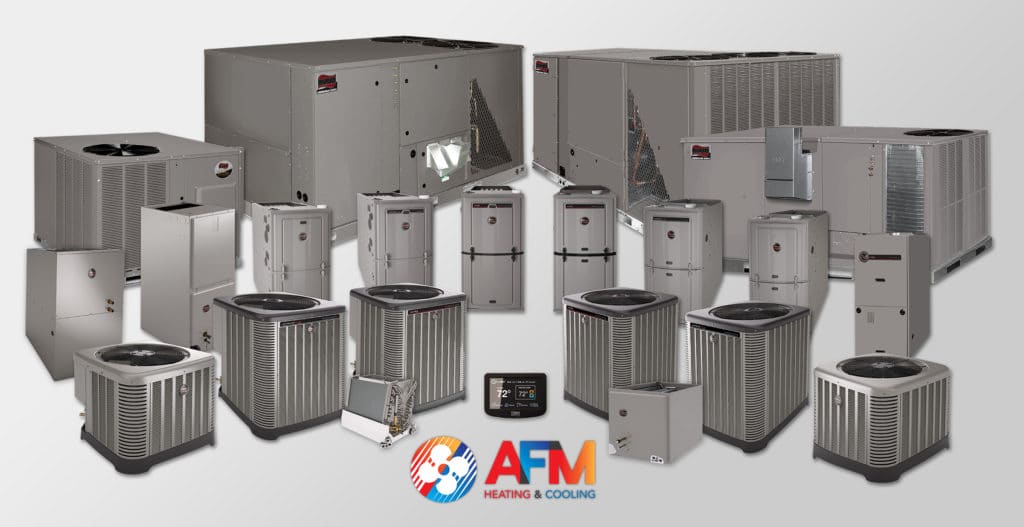 Air Conditioning Installation Ann Arbor MI
At AFM Heating & Cooling, we are beyond proud to offer Southeast Michigan's favorite air conditioning installation services to Ann Arbor, MI. Ann Arbor is an incredible city, and second only to Detroit in terms of its incredible assortment of attractions and opportunities. In fact, Ann Arbor is even home to the esteemed University of Michigan, which provides both exceptional higher education and jobs for more than 30,000 workers living in the area. However, no matter how many fabulous restaurants, parks, museums, landmarks, and more there might be in Ann Arbor, most people will tell you that nothing beats being home with those you love – except when your home is way too hot and it feels like you'll never stop sweating! Fortunately, as miserable as that may be, the fix is pretty easy. All you have to do is leave your property in Ann Arbor in the capable hands of our air conditioning experts at AFM Heating & Cooling. Whether you're in need of a brand new air conditioning system and installation services, or just minor repairs, our team can be in Ann Arbor to help you out in no time. After all, Ann Arbor is too wonderful a place to let something as resolvable as the heat get you down!
If you are looking for experienced air conditioning installation Ann Arbor MI, call AFM Heating & Cooling today at 734.464.6700 for a free consultation, or simply fill out the form below:
Free Consultation on New Equipment*