Are you looking for air conditioning installation Farmington Hills MI?
If you need your property to be a cool retreat from the summer heat, but your air conditioning unit just isn't keeping up anymore, you might need to start thinking about replacement. The good news, however, is that doing so is easier than you think. Simply reach out to our air conditioning installation specialists at AFM Heating & Cooling, and we'll quickly take care of everything you need. After all, not only do we offer some of the most incredible HVAC brands on the market, which means you can choose the exact right air conditioning unit for you, our installation services are second to none. Plus, our air conditioning installation experts have more than 50 years of combined experienced pleasing our more than 5,000 commercial and residential clients. If there's anyone who can handle your new air conditioning unit's installation, saving you money both now and throughout the lifespan of your system, we're certain it's us. So please, protect your investment and the comfort of your property in Farmington Hills today by choosing our installation experts at AFM Heating & Cooling to take care of all your air conditioning needs. Our magnificent installation team already has the talent, experience, resources, and passion to ensure your satisfaction – all we need now is for you to trust us!
We install RUUD brand air conditioners, and we service nearly every make and model of furnace: Ruud, Tempstar, Rheem, Trane, Amana, American Standard, Carrier, Bryant, Lennox, Heil, Goodman, York and more.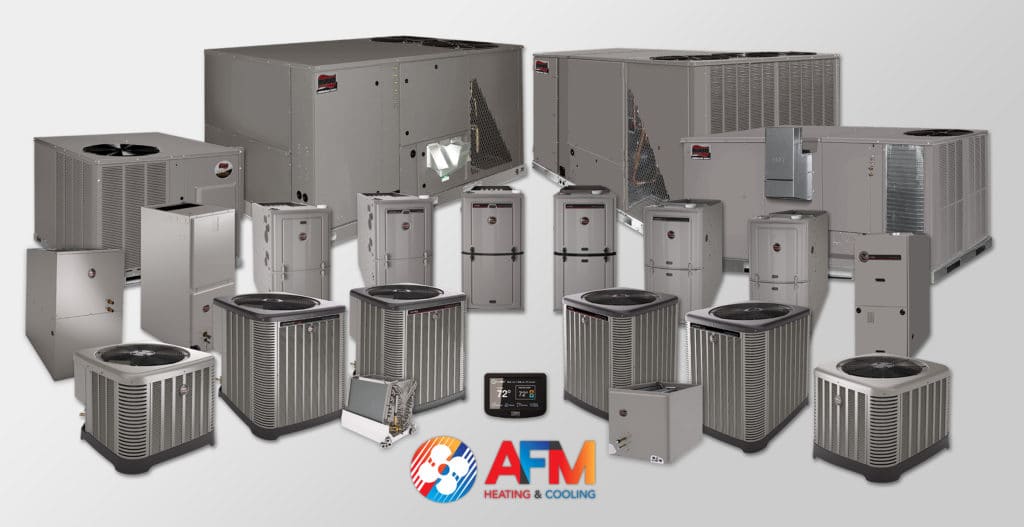 Air Conditioning Installation Farmington Hills MI
At AFM Heating & Cooling, we are beyond proud to offer Southeast Michigan's favorite air conditioning installation services to Farmington Hills, MI. As the second largest city in Oakland County, and one of the safest cities in the United States, Farmington Hills is able to provide an incredible way of life for its 80,000 residents. It's home to famous museums, landmarks, parks, art galleries, and more; a flourishing business park; and incredible neighborhoods where residents of Farmington Hills can enjoy their escape from the hustle and bustle of the vibrant city outside. However, if your home in Farmington Hills is not as cozy as it used to be because of a lack of air conditioning, you likely don't feel as carefree as you should. Plus, dysfunctional air conditioning can also cause a lot of other problems for your property in Farmington Hills as well, such as furniture damage caused by excess humidity and mold growth. That's why, before your property in Farmington Hills starts acquiring a musty smell, we urge you to get in touch with our seasoned air quality and installation experts at AFM Heating & Cooling. With our help, we know we can get the atmosphere inside your property in Farmington Hills back the way you like it before you know it.
If you are looking for experienced air conditioning installation Farmington Hills MI, call AFM Heating & Cooling today at 734.464.6700 for a free consultation, or simply fill out the form below:
Free Consultation on New Equipment*