Are you looking for air conditioning installation South Lyon MI?
Nothing beats going on a hike or taking your boat out on the water on a sunny summer day, except perhaps going home to your perfectly cozy house to relax at the end of it all. However, if your air conditioning isn't working, your home likely isn't the calming retreat you hope and need it to be. That's why, before you really start to suffer the consequences of excessive heat and humidity, we urge you to get in touch with our trained air conditioning installation professionals at AFM Heating & Cooling. In addition to being fully committed to finding you the precise HVAC remedy for ensuring the comfort your home, our air conditioning specialists have more than 50 years worth of installation, maintenance, and repair experience to pull from when catering to your needs. In fact, our air conditioning installation team already helps care for more than 5,000 commercial and residential properties across the region. That means, no matter what type of HVAC problem you're having, what size home you have, or how desperate you are for help, you can always count on our installation specialists to have a solution for you! Not sure what you need? No problem! Just reach out to us, our installation professionals at AFM Heating & Cooling will be ready to put your mind at ease by doing whatever it takes to optimize your air conditioning. After all, the air conditioning installation process can impact the system's efficiency, which in turn can affect your health and comfort. So make sure for the sake of your property in South Lyon and yourself that the next time you're having problems you choose the most experienced, talented, insightful HVAC professionals you can find – ours, at AFM Heating & Cooling!
We install RUUD brand air conditioners, and we service nearly every make and model of furnace: Ruud, Tempstar, Rheem, Trane, Amana, American Standard, Carrier, Bryant, Lennox, Heil, Goodman, York and more.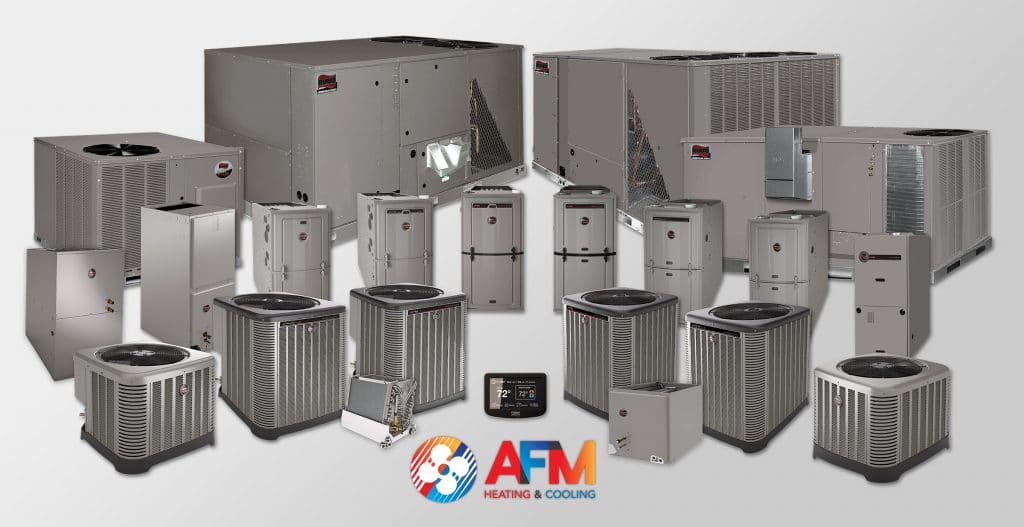 Air Conditioning Installation South Lyon MI
At AFM Heating & Cooling, we are beyond proud to offer Southeast Michigan's favorite air conditioning installation services to the residents of South Lyon, MI. With almost immediate access to Kellogg Park, Maybury State Park, the Island Lake State Recreation Area, Erwin's Orchard, Three Cedars Farm, the Huron Valley Rail Trail, Lyon Oaks County Park, and all sorts of other incredible outdoor destinations, it's amazing residents of South Lyon ever want to go home. And yet, one look at the breathtaking assortment of properties and estates in South Lyon's many elite neighborhoods, and suddenly it becomes clear. South Lyon is simply an all around fantastic place to live, with as much beauty and charm within its borders as the lush recreational areas that surround it. However, building a truly happy life in South Lyon is about more than just living in a place where you can always go out and find something fun to do. It takes effort, and a desire to make sure you attain happiness wherever you go no matter what you're doing – including back home in South Lyon. That's why, if you're not entirely pleased with the quality of your air conditioning, we implore you to consider letting our installation professionals at AFM Heating & Cooling replace it for you. A new, fully functional system will save you time and money in future efficiency and repair costs, not to mention bring a smile to your loved ones' faces when that cool, refreshing breeze rescues them from South Lyon's relentless sunshine.
If you are looking for experienced air conditioning installation South Lyon MI, call AFM Heating & Cooling today at 734.464.6700 for a free consultation, or simply fill out the form below:
Free Consultation on New Equipment*