Are you looking for air conditioning installation Wayne MI?
If sitting at home not doing anything at all still has you sweating, there's likely something seriously wrong with your air conditioning. Fortunately, getting it replaced is extraordinarily simple when you have help from our installation professionals at AFM Heating & Cooling. All you have to do is reach out to our team, tell us what you need, and our installation experts will be out as soon as possible to get your air conditioning back up and operational by any means necessary. Our team of installation professionals already has all the resources and skill it needs to succeed for you, including more than 50 years worth of combined experience servicing air conditioning units of all kinds for more than 5,000 different commercial and residential properties belonging to clients just like you. All we need now is your trust. By allowing our team to handle the installation of your new air conditioning system, you're ensuring that it's done right, which means your new system is likely to function more effectively for longer than if the job was completed by an amateur. So, before you decide who you're going to trust with the overall comfort, cost, and efficiency of your home in Wayne, consider trusting our knowledgeable, highly qualified air conditioning installation specialists at AFM Heating & Cooling. We're certain our installation team's integrity and capabilities are second to none, just like our passion for all things air conditioning!
We install RUUD brand air conditioners, and we service nearly every make and model of furnace: Ruud, Tempstar, Rheem, Trane, Amana, American Standard, Carrier, Bryant, Lennox, Heil, Goodman, York and more.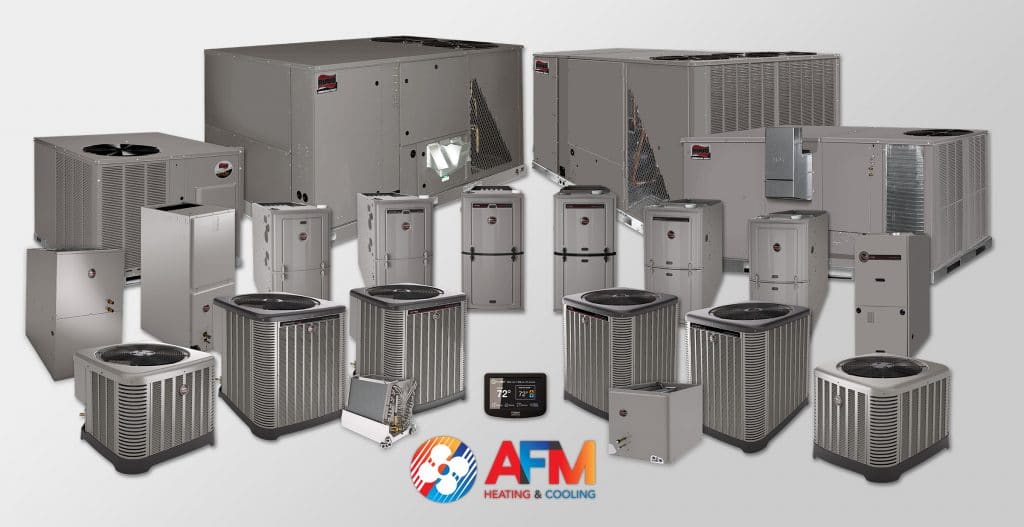 Air Conditioning Installation Wayne MI
At AFM Heating & Cooling, we are beyond proud to offer Southeast Michigan's favorite air conditioning installation services to the residents of Wayne, MI. The city of Wayne, located in Wayne County, is famous for its rich automotive manufacturing history, which is still a big part of the community even today. In fact, from the two distinct Ford Motor Company plants, to the Wayne Stamping & Assembly and Michigan Assembly Plant facilities, one could even say that the city of Wayne still depends on its advantageous automotive industry even now to sustain its spectacular way of life. Regardless though, residents of Wayne have more to worry about than what's keeping the city afloat financially, like which of Wayne's 17 parks they should visit, or what's wrong with the air conditioning? Fortunately, however, our HVAC experts at AFM Heating & Cooling can help you out with that last one. In fact, even if the worst comes to pass and you need a whole new system, you don't have to worry. Our installation team is unparalleled, and can get the temperature of your property back to the way you like it in no time!
If you are looking for experienced air conditioning installation Wayne MI, call AFM Heating & Cooling today at 734.464.6700 for a free consultation, or simply fill out the form below:
Free Consultation on New Equipment*