Are you looking for air conditioning installation Westland MI?
If your air conditioning is working twice as hard lately, and costing you twice as much, it's likely time for you to consider getting a replacement. Don't worry though, at AFM Heating & Cooling, our goal is to help you accomplish this pesky task with minimal effort required. Our installation experts are trained to assist you with everything you need, from helping you size up your commercial or residential property to ensure you choose the exact air conditioning system you need, to handling its installation, eventual repairs, and everything else thereafter. After all, not having trained installation professionals, like ours, set up your new air conditioning is the best way to end up with all sorts of efficiency-related problems, which will inevitably result in you owing even more money over time. Plus, living with broken air conditioning in a place like Westland, where humidity levels often reach well above comfortable, is just not a good idea. Thankfully, our installation specialists can save you from the mold, allergies, décor damage, and other associated issues that often accompany excess humidity. In fact, our air conditioning installation experts can help you with whatever you need. With our wealth of resources, and our team's more than 50 years worth of combined experience satisfying our more than 5,000 clients across the region, our installation team is fully capable of handling any air conditioning-related problems you could be having. All you have to do is ask, and our specialists at AFM Heating & Cooling will oblige.
We install RUUD brand air conditioners, and we service nearly every make and model of furnace: Ruud, Tempstar, Rheem, Trane, Amana, American Standard, Carrier, Bryant, Lennox, Heil, Goodman, York and more.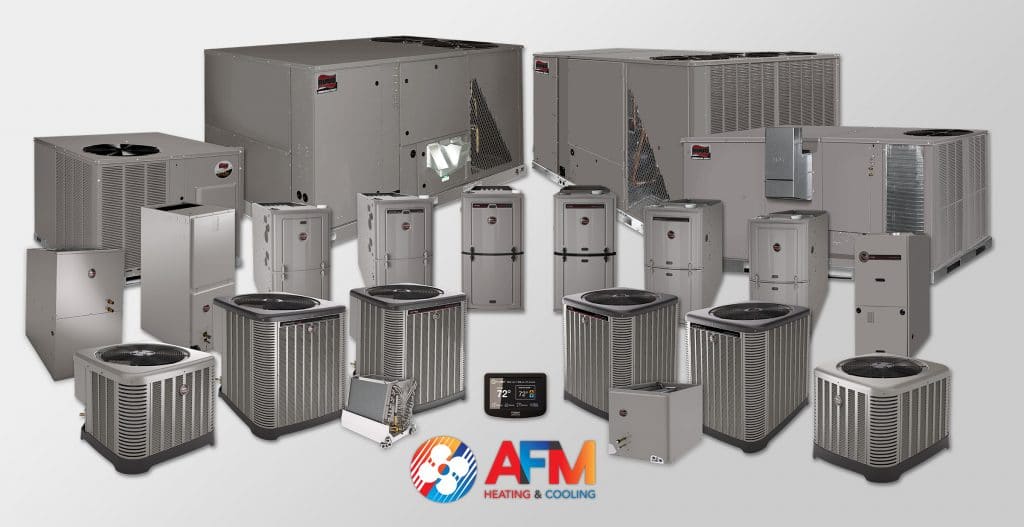 Air Conditioning Installation Westland MI
At AFM Heating & Cooling, we are beyond proud to offer Southeast Michigan's favorite air conditioning installation services to the residents of Westland, MI. For those who don't live in Westland, it's hard to understand how this small, yet charming, residential community became the 12th most populated city in the state. However, for anyone who actually lives in Westland, it really is plain to see. For starters, Westland is less than only 20 miles from downtown Detroit, which makes it an incredible area to live for anyone who loves the city as much as they do their privacy. Plus, there are still several local attractions nearby, including Sportway of Westland and the HUSH Haunted Thrill Park, to take advantage of. Add all that to the fact that Westland is also an attractive, clean, affordable community, and the only thing that's difficult to understand is why more people don't call it home. Just keep in mind ensuring your daily comfort takes more than just living in a great city, like Westland. True comfort starts at home, and takes deliberate action and knowing when to call out for help when you need it. So don't forget to reach out to our installation experts at AFM Heating & Cooling the next time your air conditioning isn't living up to your expectations!
If you are looking for experienced air conditioning installation Westland MI, call AFM Heating & Cooling today at 734.464.6700 for a free consultation, or simply fill out the form below:
Free Consultation on New Equipment*