Are you looking for air conditioning repair Allen Park MI?
Functioning air conditioning is simply a must-have if you want to ensure year-round comfort for yourself and those you care about, and lucky for you our air conditioning repair technicians' top priority here at AFM Heating & Cooling is to ensure the integrity of your HVAC systems. Whether adequate airflow seems to be your problem, or your air conditioning unit has completely broken down, we're confident our air conditioning repair specialists possess more than enough knowledge and skill to have your air conditioning back up and in optimal working order in no time. Our air conditioning repair professionals have dedicated over 30 years of their lives to ensuring the comfort and safety of Michiganders throughout Allen Park, and the rest of Southeast Michigan so far already, and we wouldn't dream of stopping anytime soon. In fact, our air conditioning repair specialists have worked hard to establish solid relationships with more than 5,000 commercial and residential clients throughout the Allen Park area, and we're just getting started! If you are interested in enjoying same day service whenever you need any sort of air conditioning repairs, you have to choose the experts who are always on your side. You have to choose our air conditioning repair professionals at AFM Heating & Cooling!
We service nearly every make and model of air conditioner: Ruud, Tempstar, Rheem, Trane, Amana, American Standard, Carrier, Bryant, Lennox, Heil, Goodman, York and more.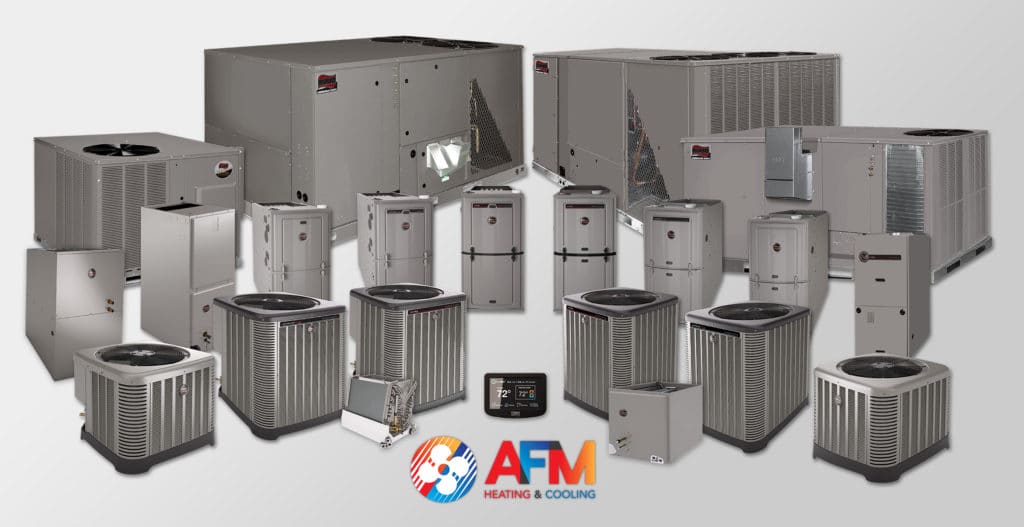 Air Conditioning Repair Allen Park MI
At AFM Heating & Cooling, we are beyond proud to offer Southeast Michigan's favorite air conditioning repair services to the residents of Allen Park, MI. It may never reach 100 degrees in Allen Park, even on its hottest days, but that doesn't mean it doesn't still get pretty warm throughout Wayne County during the summer. In fact, not a lot of things can beat a nice, long summer in Allen Park. The beautiful beaches and entertainment surrounding the Detroit River and Lake Erie are just a short drive away, and there are constantly plenty of things to do outdoors right down the road from Allen Park in Detroit. Perhaps the best part about exploring in the heat of summer is knowing no matter where you go, your cozy home back in Allen Park is always waiting for you right where you left it. As comforting a notion as that may be, making sure your home stays cozy while you're away still takes effort. Having your air conditioning and other HVAC systems inspected, serviced, and/or repaired regularly is key to guaranteeing your property in Allen Park is always ready to impress and keep you and your family comfortable. If you're one of the immensely fortunate property owners of Allen Park, and you're interested in making sure your HVAC systems are in peak condition, we encourage you to reach out to us at AFM Heating & Cooling today!
If you are looking for experienced air conditioning repair Allen Park MI, call AFM Heating & Cooling today at 734.464.6700 for a free consultation, or simply fill out the form below:
Free Consultation on New Equipment*