Are you looking for air conditioning repair Canton MI?
If you've ever experienced what it's like to find yourself sticky with sweat because your air conditioning decided to suddenly stop working on you, you're definitely not alone. So long as you have the help of our air conditioning repair professionals at AFM Heating & Cooling, you're also not really at that much of a disadvantage either. Thanks to our same day service, our air conditioning repair professionals can easily come take a look at your air conditioning as soon as you start to notice trouble so you're never forced to suffer the heat longer than you have to. Best of all, we're confident no one knows more about the ins and outs of all the different types of air conditioning units than our spectacular HVAC repair specialists. Perhaps it's because we've already spent nearly 30 years caring for more than 5,000 residential and commercial properties across Southeast Michigan, or perhaps it's simply because our air conditioning repair professionals are so committed to being the best. Either way, you can always count on our air conditioning repair experts to know exactly how best to help you. After all, our number one goal is to ensure your property in Canton remains in optimal condition all year long so that you and the people you care about can enjoy your lives as comfortably as possible. If that sounds like something you can get onboard with, we urge you to let our air conditioning repair experts at AFM Heating & Cooling come take a look at your air conditioning as soon as possible to see if there's anything we can do to improve your life!
We service nearly every make and model of air conditioner: Ruud, Tempstar, Rheem, Trane, Amana, American Standard, Carrier, Bryant, Lennox, Heil, Goodman, York and more.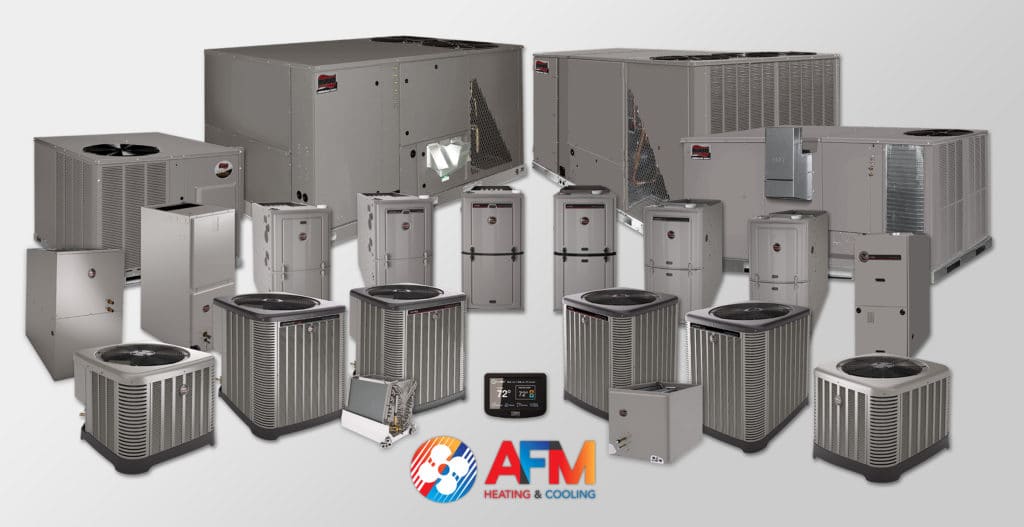 Air Conditioning Repair Canton MI
At AFM Heating & Cooling, we are beyond proud to offer Southeast Michigan's favorite air conditioning repair services to the residents of Canton, MI. The Charter Township of Canton, or Canton for short, is a phenomenal area in Wayne County to live. First off, it's perfectly situated between Detroit and Ann Arbor, only eight miles from each, which means Canton is the ideal place to be if you want to find endless entertainment and recreation everywhere you turn. Secondly, it's been ranked repeatedly as one of the highest-income places in the entire country, as well as one of the safest and fastest growing. But perhaps the best part of all about Canton is its proximity to Lake St. Clair, Lake Erie, and the Detroit River. When the summer heat comes, residents of Canton can't help but immediately uncover their boats, grab their fishing poles, and hit the water. Just remember, if you want your home nice and cool when you finally get back to Canton from your long day out in the sun, you have to keep your air conditioning in perfect working order. To make sure you do, our HVAC service and repair professionals at AFM Heating & Cooling are here for you!
If you are looking for experienced air conditioning repair Canton MI, call AFM Heating & Cooling today at 734.464.6700 for a free consultation, or simply fill out the form below:
Free Consultation on New Equipment*