Are you looking for air conditioning repair Wayne MI?
From changing filters to keeping your vents clean and clear, there are a lot of things you can do yourself when it comes to keeping your air conditioning unit in great shape. However, if your system is no longer functioning at all and in need of genuine repair, it's best you get help from qualified air conditioning repair professionals, like ours at AFM Heating & Cooling. Our air conditioning experts can handle any repairs you may need, for any brand HVAC system you might have, and it's all thanks to our team's more than 30 years combined experience helping more than 5,000 commercial and residential clients live the most comfortable lives. But that's not all! Above all else our air conditioning repair experts value your satisfaction, understanding that respecting you is the best way to communicate effectively and resolve the issue at hand. That's why, our estimates are always honest and accurate, we let you know 30 minutes ahead of time when we're coming, and we're always available to help you when you need us and not a day later! If you have an air conditioning unit in desperate need of repair somewhere in Wayne, put your trust in our seasoned air conditioning repair specialists at AFM Heating & Cooling today.
We service nearly every make and model of air conditioner: Ruud, Tempstar, Rheem, Trane, Amana, American Standard, Carrier, Bryant, Lennox, Heil, Goodman, York and more.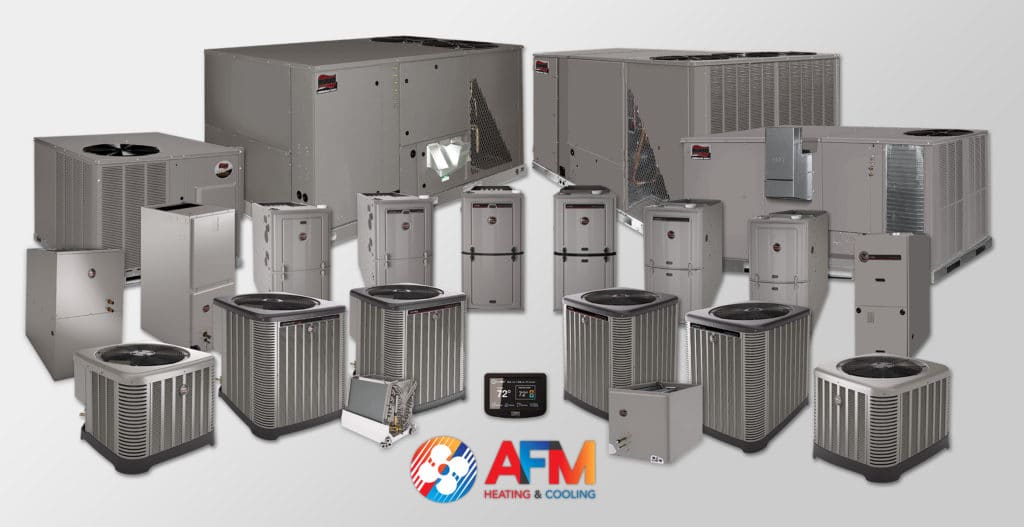 Air Conditioning Repair Wayne MI
At AFM Heating & Cooling, we are beyond proud to offer Southeast Michigan's favorite air conditioning repair services and specialists to the wonderful people of Wayne, MI. The city of Wayne, in Wayne County, is known for many things. It's a fantastic home for more than 17,500 people, it provides ample employment opportunities – especially at Wayne Stamping & Assembly and the Michigan Assembly Plant – plus it offers a vast assortment of entertainment, educational, and communal facilities and amenities. However, if you're like most people in Wayne, you probably spend most of your time at work or at home, which means living your best life is likely less about how many attractions there are nearby and more about how you can stay optimally comfortable all day long. The good news is, with our help, it's not hard at all! Our air conditioning repair experts at AFM Heating & Cooling specialize in making sure your HVAC systems are ready to beat the heat in Wayne no matter how warm things get. All you have to do is trust us, and let our air conditioning repair professionals show you what an ideally cozy life in Wayne really feels like!
If you are looking for experienced air conditioning repair Wayne MI, call AFM Heating & Cooling today at 734.464.6700 for a free consultation, or simply fill out the form below:
Free Consultation on New Equipment*