Are you looking for furnace installation Farmington MI?
If you know nothing about furnace installation, don't be the guy to try it out just because and then end up completely ruining your brand new system. Furnaces are extraordinarily complex, requiring precise installation for maximum efficiency – and that means it's definitely not something you should attempt without extensive training or proper guidance. The good news is, if you know where to look, exceptional furnace installation professionals are not very hard to find! Our HVAC experts at AFM Heating & Cooling, for instance, have been optimizing the air quality of more than 5,000 commercial and residential properties for close to 30 years. Our furnace installation and service specialists have the exact skills and expertise needed to guarantee your home or business is in perfect working order, as well as correct any elements that are hindering your property from operating at its fullest potential. Best of all, along with our spectacular installation services, we also offer a vast inventory of high quality RUUD brand furnaces, as well as comprehensive maintenance services, to help you get everything you need all in one place. All in all, if you're looking for any type of furnace installation, repair, or maintenance assistance for your commercial or residential property in Farmington, we're confident you'll not regret choosing AFM Heating & Cooling!
We install RUUD brand furnaces, and we service nearly every make and model of furnace: Ruud, Tempstar, Rheem, Trane, Amana, American Standard, Carrier, Bryant, Lennox, Heil, Goodman, York and more.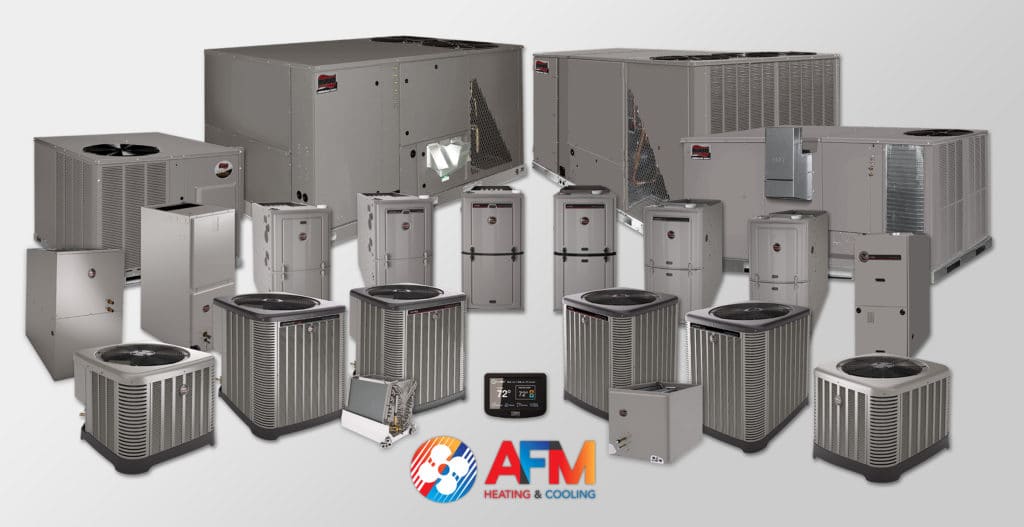 Furnace Installation Farmington MI
At AFM Heating & Cooling, we are beyond proud to offer Southeast Michigan's favorite furnace installation services to Farmington, MI. Though it shouldn't be compared to its surrounding neighbor, Farmington Hills, Oakland County's city of Farmington is equally impressive. Since its renovations in 2009, Farmington has blossomed into a remarkable city with brick paver sidewalks, adorably picturesque homes, and even a new Farmington Pavilion. Add on the fact that Farmington is known for its stunning historic district and it's easy to see why this city has repeatedly made it onto several different "Best Places to Live" lists. However, amenities, attractions, and amazing opportunities aside, Farmington can get pretty darn cold when wintertime rolls around, which means in order to keep cozy all year long you have to make sure your property is ready. Lucky for you, our seasoned furnace installation and other HVAC experts at AFM Heating & Cooling are always here to lend you a helping hand – especially when it comes to keeping your family warm and safe. For more information on how we plan to do that, we urge you to reach out to us at AFM Heating & Cooling today!
If you are looking for experienced furnace installation Farmington MI, call AFM Heating & Cooling today at 734.464.6700 for a free consultation, or simply fill out the form below:
Free Consultation on New Equipment*