Are you looking for furnace installation Novi MI?
If there's one thing all Michiganders know and understand it's that dramatic shifts in weather can happen at any moment, especially now with how unpredictable the climate currently is. That's why, if it's been a while since you've had your furnace replaced, you should look into getting a new one fast before another harsh winter leaves your home or business unbearably cold. Fortunately, from your initial furnace purchase and system installation, to all your necessary maintenance and repairs thereafter, our furnace installation and other air quality experts at AFM Heating & Cooling always have the HVAC solutions you're looking for. For starters, we offer a wide variety of incredible RUUD brand systems to suit your property's unique needs, plus seasoned installation experts to help ensure your new furnace is properly fitted and connected to improve its efficiency and extend its lifespan. Best of all, our furnace and installation pricing is always guaranteed, which means you don't ever have to worry about any unexpected costs or surprise fees. Overall, when it comes to choosing the right furnace installation professionals to help you optimize the temperature and air quality of your property in Novi, you simply can't go wrong choosing experts who have more than 30 combined years experience helping more than 5,000 commercial and residential clients – so go ahead and choose AFM Heating & Cooling today!
We install RUUD brand furnaces, and we service nearly every make and model of furnace: Ruud, Tempstar, Rheem, Trane, Amana, American Standard, Carrier, Bryant, Lennox, Heil, Goodman, York and more.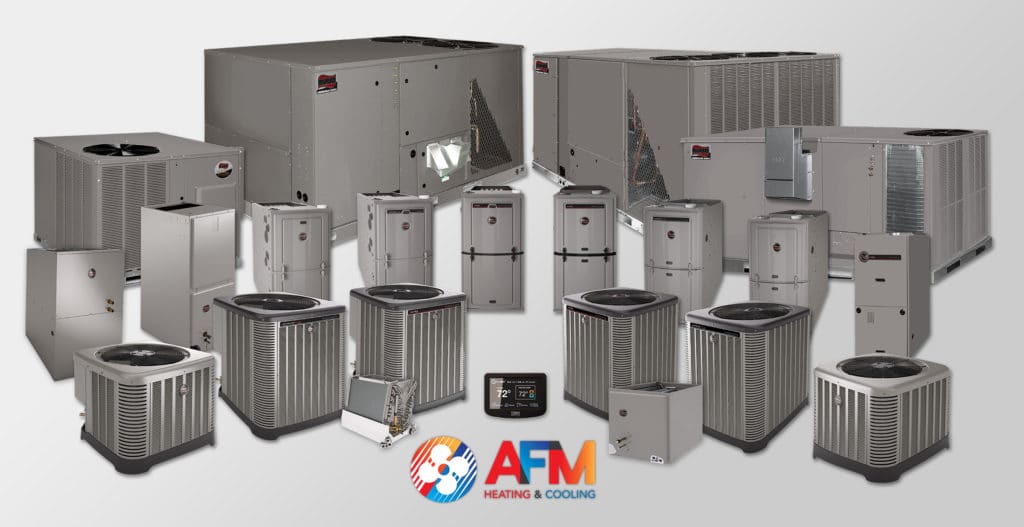 Furnace Installation Novi MI
At AFM Heating & Cooling, we are beyond proud to offer Southeast Michigan's favorite furnace installation services to Novi, MI. The city of Novi is an incredible place to live, with a super strong economy, plenty of historical sites to explore, and massive beautiful homes for its more than 55,000 exclusive residents to enjoy. And yet, the city of Novi is located within Novi Township in Oakland County, which means winters can get pretty brutal pretty fast. Plus, everyone knows that the larger the property in Novi you own, the harder your HVAC systems will have to work to keep the entire place as comfortable as possible throughout the year. The good news, however, is that even if your property in Novi is a little older than most and your furnace isn't in the best shape, our installation professionals at AFM Heating & Cooling can help get you get a new one set up in no time! After all, whether you own a residential or commercial property in Novi, you can always trust our knowledgeable installation professionals at AFM Heating & Cooling with everything you need!
If you are looking for experienced furnace installation Novi MI, call AFM Heating & Cooling today at 734.464.6700 for a free consultation, or simply fill out the form below:
Free Consultation on New Equipment*