Are you looking for furnace installation Redford MI?
A furnace is a very complex and very valuable piece of machinery, and if you want yours to stay in great shape for as long as possible, you need to make sure its initial installation is handled properly. If it's not, you could quickly end up owing a ton of money in future repairs and replacement costs – and no one wants that! That's why we urge you to come check out our massive selection of brand new RUUD brand furnaces at AFM Heating & Cooling. Our competent HVAC specialists can help you determine exactly what type of system best suits your property, and help you get your installation all squared away so that you can start enjoying a better, more comfortable home or office as soon as possible. There's simply never been a better way to get the new furnace, installation services, and continued maintenance support you deserve than by trusting our highly qualified furnace installation and repair professionals! After all, our team has more than 30 years of combined furnace installation experience earned through taking care of more than 5,000 commercial and residential properties across Southeast Michigan. So what do you say? Enjoy convenient, cost effective furnace installation as well as all kinds of other amazing services for your property in Redford today by choosing AFM Heating & Cooling!
We install RUUD brand furnaces, and we service nearly every make and model of furnace: Ruud, Tempstar, Rheem, Trane, Amana, American Standard, Carrier, Bryant, Lennox, Heil, Goodman, York and more.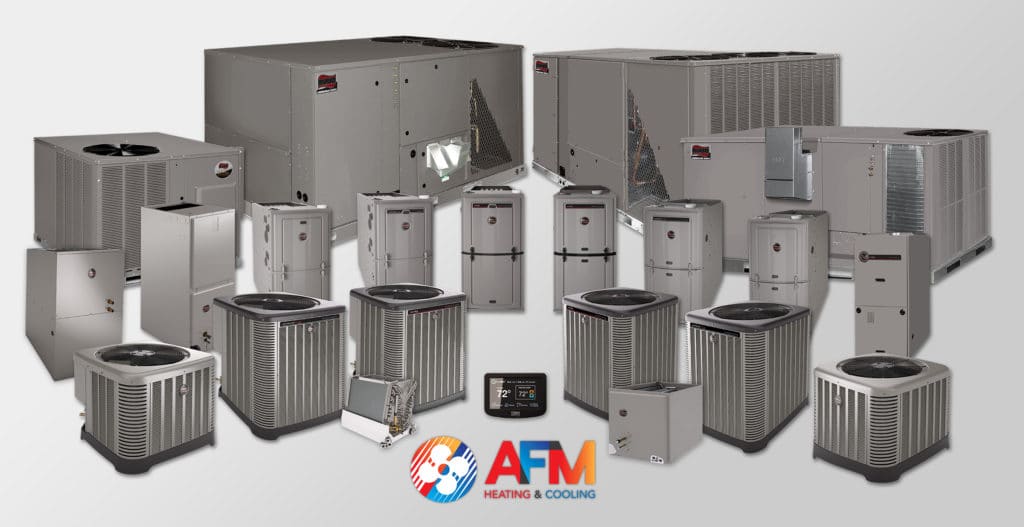 Furnace Installation Redford MI
At AFM Heating & Cooling, we are beyond proud to offer Southeast Michigan's favorite furnace installation services to Redford, MI. Redford, officially known as the Charter Township of Redford, is a marvelous little community right outside Detroit in Wayne County. It's home to nearly 50,000 residents despite its humble size, as well as great public schools and other fantastic communal amenities that make Redford an amazing home for families. And yet, although Redford is a peaceful place to live, or own a small business for that matter, it's also a community in Michigan – and that means you can always expect harsh winters! Of course, with the right furnace, staying warm in Redford is easy! In fact, if you're looking for a new HVAC system to keep your family, employees, or clients/customers comfortable this upcoming season, you can't go wrong with our amazing products and installation services at AFM Heating & Cooling! Besides, we've been effectually satisfying thousands of home and business owners in and outside of Redford for more than 25 years – so we know we can handle any job you've got for us!
If you are looking for experienced furnace installation Redford MI, call AFM Heating & Cooling today at 734.464.6700 for a free consultation, or simply fill out the form below:
Free Consultation on New Equipment*