Are you looking for furnace installation Romulus MI?
If being able to get a new furnace, unparalleled installation assistance, and all your future maintenance and repairs taken care of all in one place sounds like a great deal to you, we're certain you're going to love our comprehensive HVAC services AFM Heating & Cooling. In addition to all our vast selection of high quality RUUD brand furnaces available for any and all size homes or businesses, you can always rest easy knowing our esteemed furnace installation experts know precisely how to handle your installation in a way that guarantees maximum efficiency to help keep you system running stronger, longer. How? Well, for one thing our furnace installation professionals have an extraordinary reputation for satisfaction, having already collectively dedicated well over 30 years of service to our more than 5,000 loyal commercial and residential clients throughout Southeast Michigan. Secondly, if you are looking for furnace installation specialists who are as compassionate and caring as they are skilled and experienced, we're confident you won't find any better than our staff. All in all, if you want to sufficiently protect your property in Romulus from the cold this upcoming season, our convenient, cost-effective furnace installation services at AFM Heating & Cooling are for you.
We install RUUD brand furnaces, and we service nearly every make and model of furnace: Ruud, Tempstar, Rheem, Trane, Amana, American Standard, Carrier, Bryant, Lennox, Heil, Goodman, York and more.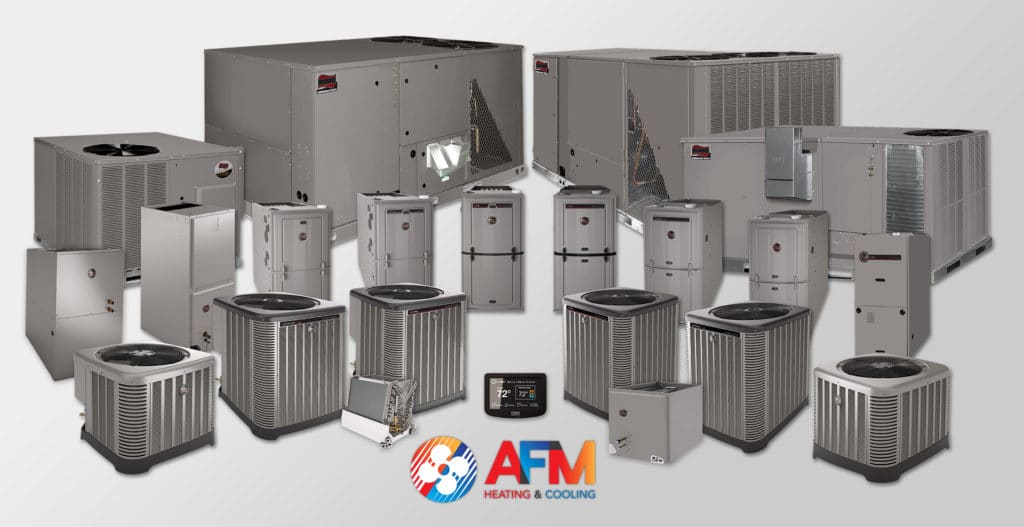 Furnace Installation Romulus MI
At AFM Heating & Cooling, we are beyond proud to offer Southeast Michigan's favorite furnace installation services to Romulus, MI. From adorable neighborhoods and outstanding commercial strength, to historical sites and amenities galore, Wayne County's little suburban community of Romulus really does have more to offer than most expect. However, no matter how many activities there are available at the Romulus Athletic Center, or how many great schools the Romulus Community School District supports, Romulus will always be a city in Michigan – which means cold weather is always inevitable no matter how deeply you hope for year-round sunshine. In fact, the only way to keep warm during the winter in a city like Romulus is to make sure you have a great furnace capable of properly heating your entire property. And if you don't, you'll definitely want to have that taken care of before the season changes again and it's too late. The good news is, if you own property in Romulus, it's even easier for you to do so thanks to our outstanding installation and repair professionals at AFM Heating & Cooling. After all, with our staff always ready and willing to jump to your aid, you'll never have to worry about being caught out in the cold again!
If you are looking for experienced furnace installation Romulus MI, call AFM Heating & Cooling today at 734.464.6700 for a free consultation, or simply fill out the form below:
Free Consultation on New Equipment*