Are you looking for furnace installation South Lyon MI?
If you cannot identify all the different components that make your furnace work, let alone what they're for, you should certainly never try to handle your own installation. Doing so will likely cost you so much more in necessary future furnace repairs and maintenance over time, not to mention leave you in need of a replacement sooner rather than later – which will only put you right back to where you started, contemplating professional installation services. That's why we urge you to skip the long, drawn out process and just leave your furnace installation to us! Our furnace installation specialists have more than 30 years of combined experience working with all type of popular HVAC brands, and have been successfully serving and satisfying our more than 5,000 commercial and residential clients every step of the way. Plus, if you haven't actually found your new furnace yet, we can handle that too! Our installation professionals can help you understand exactly what your unique property in South Lyon needs, and set you up with the perfect RUUD brand system you'll love. All you have to do is sit back, relax, and let our highly qualified furnace installation experts at AFM Heating & Cooling do what we do best!
We install RUUD brand furnaces, and we service nearly every make and model of furnace: Ruud, Tempstar, Rheem, Trane, Amana, American Standard, Carrier, Bryant, Lennox, Heil, Goodman, York and more.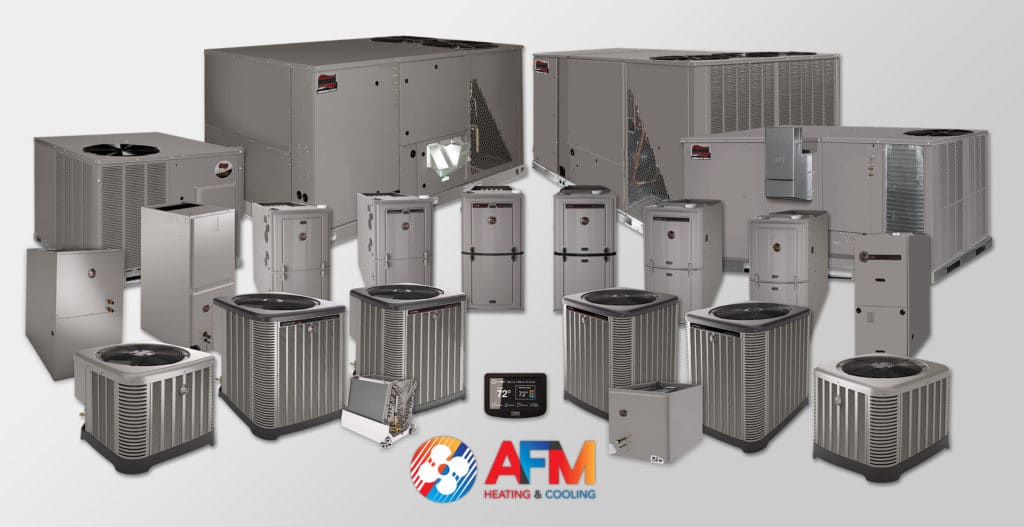 Furnace Installation South Lyon MI
At AFM Heating & Cooling, we are beyond proud to offer Southeast Michigan's favorite furnace installation services to South Lyon, MI. Oakland County's city of South Lyon is so positively full of charm and opportunity, it's likely one of the best neighborhoods in the South Lyon-Howell-Brighton Urban Area. Its colorful downtown hosts numerous unique shops and attractions, and its gorgeous homes make it easy to see why South Lyon has such a loyal population. In fact, South Lyon even has a few local events, like Pumpkinfest, to give it a fantastic reputation to nearby tourists. However, one thing that all Michigan cities, including South Lyon, can't ever escape is cold winters. For most, it's not usually a problem since skiing, winter fishing, and more are all incredibly popular pastimes for Michiganders; however, staying warm and cozy while you're inside is definitely more of a challenge. That's why, if your HVAC system isn't functioning at full capacity, we encourage you to let us see if a brand new furnace and our convenient, cost-effective installation services are right for you. After all, at AFM Heating & Cooling the last thing we want is for you to suffer while living in a city as incredible as South Lyon!
If you are looking for experienced furnace installation South Lyon MI, call AFM Heating & Cooling today at 734.464.6700 for a free consultation, or simply fill out the form below:
Free Consultation on New Equipment*