Are you looking for furnace installation Wayne MI?
Whether you currently have a RUUD, Tempstar, Heil, Goodman, Comfortmaker, American Standard, Carrier, Bryant, Trane, Amana, Lennox, York, or any other popular brand furnace, if it's time for a new one, our installation experts at AFM Heating & Cooling have you covered. After all, our team of awesome furnace installation professionals has more than 50 years combined experience optimizing the air quality of our client's properties, which means we know precisely how crucial a fully functional HVAC system is to sustaining the overall health and comfort of any family or business. Best of all, all that experience has gone a long way in making sure our furnace installation experts also know that great service is about more than just knowledge and skill – it's also about providing the best, most respectful customer service as well. That's why, in addition to being the most exceptional furnace installation technicians for more than 5,000 residential and commercial properties across the region, our team also makes sure to always put the schedules and needs of our client's first. Convenience and comfort, that's what we're all about. So, if it's about that time to have an installation professional come out to Wayne and set up a new furnace for you, we urge you to put your trust in our amazing, competent furnace installation specialists at AFM Heating & Cooling today!
We install RUUD brand furnaces, and we service nearly every make and model of furnace: Ruud, Tempstar, Rheem, Trane, Amana, American Standard, Carrier, Bryant, Lennox, Heil, Goodman, York and more.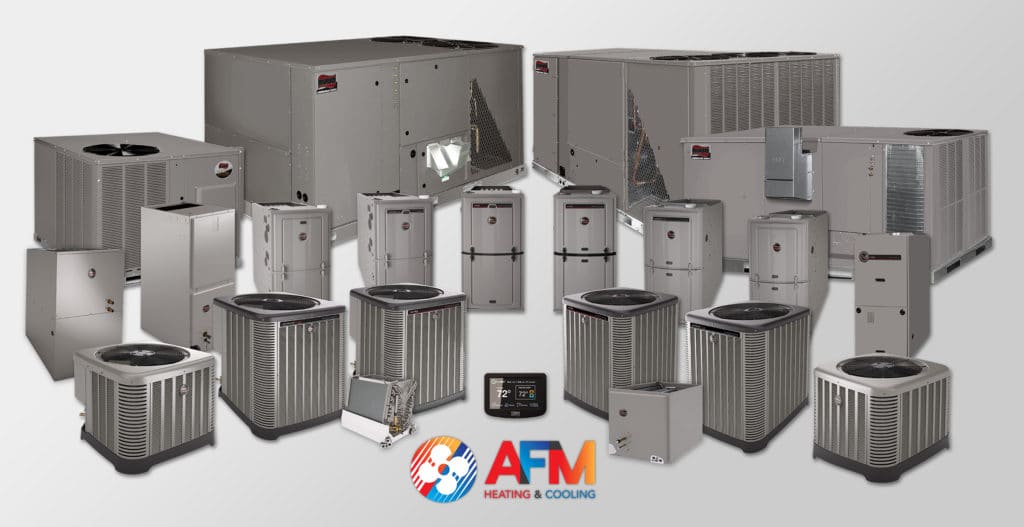 Furnace Installation Wayne MI
At AFM Heating & Cooling, we are beyond proud to offer Southeast Michigan's favorite furnace installation services to Wayne, MI. The city of Wayne, in Wayne County, has a long, rich history, as well as an abundance of great schools, communal facilities, nearby parks and attractions, and more. However, as abundantly equipped for the perfect way of life as the stunning community of Wayne may be, everyone knows a quality life begins at home, or at least wherever you spend most of your time. That's why, if you live or own a business in Wayne, we urge you to take a look at your HVAC system today. After all, many of the properties in Wayne date back all the way to the 1920s, 30s, 40s, and 50s, which means it's possible it's been a while since much of that equipment has been replaced. Fortunately, however, even if your furnace looks like it's practically falling apart and ready to give way any moment, all you have to do is reach out to AFM Heating & Cooling and our installation professionals will have your property in Wayne back up and running – and you saving money on heating costs – in no time!
If you are looking for experienced furnace installation Wayne MI, call AFM Heating & Cooling today at 734.464.6700 for a free consultation, or simply fill out the form below:
Free Consultation on New Equipment*