Are you looking for furnace installation Ypsilanti MI?
When it's unbearably cold and your furnace just isn't living up to your expectations, it might be about that time to call our installation technicians at AFM Heating & Cooling. We can help you get a brand new furnace of your choice set up in no time, making sure the installation is handled professionally to ensure the longevity and optimal functionality of your system for many years to come. Our furnace installation specialists have more than 50 years of combined experience already working with all the most popular HVAC brands. That means, no matter what kind of system you have, or how large your property is, we're confident our furnace installation experts will have no problem getting your property back in perfect working order before you know it. After all, we've been doing so for more than 5,000 other commercial and residential properties throughout the area for more than 30 years. Best of all, no matter when you call us for help, our furnace installation specialists will never leave you waiting – in fact, we'll even give you a heads up 30 minutes before we arrive to guarantee that you're ready for us! So, before you simply reach out to just any furnace and installation professionals nearest Ypsilanti, take a moment to truly consider what is best for your home and choose AFM Heating & Cooling instead!
We install RUUD brand furnaces, and we service nearly every make and model of furnace: Ruud, Tempstar, Rheem, Trane, Amana, American Standard, Carrier, Bryant, Lennox, Heil, Goodman, York and more.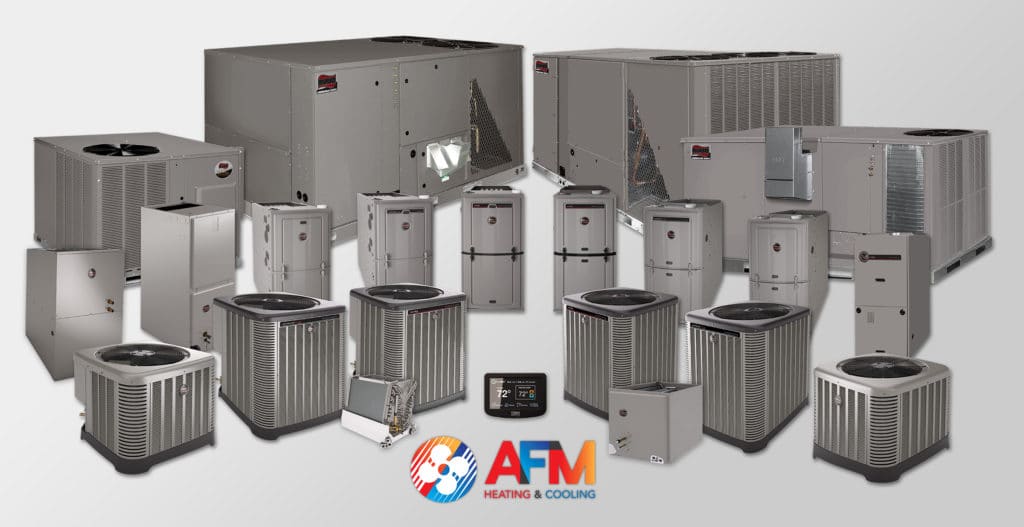 Furnace Installation Ypsilanti MI
At AFM Heating & Cooling, we are beyond proud to offer Southeast Michigan's favorite furnace installation services to Ypsilanti, MI. Washtenaw County's city of Ypsilanti is perhaps most well known for being home to Eastern Michigan University. However, there is still much more to Ypsilanti than simply being a fabulous college town. Ypsilanti has a ton of museums, nightlife, sights to see, and more, and its neighborhoods are simply outstanding. Of course, living your best life in Ypsilanti isn't just about being able to go out and have a good time. You also have to think about your comfort while spending hours at home, or while working, otherwise you'll be miserable most of the time. Thankfully, ensuring your comfort at home and at the office is easy when you have help from incredible air quality specialists, like ours at AFM Heating & Cooling. Anytime your property in Ypsilanti isn't living up to everything you hoped because it's either too hot or too cold, all you have to do is let us know! If it turns out your problem is an old furnace that just needs replacement, our installation experts will be more than happy to come out to Ypsilanti and help set up a new one – that way you can go back to enjoying your cozy property as soon as possible.
If you are looking for experienced furnace installation Ypsilanti MI, call AFM Heating & Cooling today at 734.464.6700 for a free consultation, or simply fill out the form below:
Free Consultation on New Equipment*