Are you looking for furnace replacement Inkster MI?
We are always committed to serving our loyal customers throughout Michigan here at AFM Heating & Cooling. However, relying on our 24/7 emergency services is simply not a viable alternative to doing everything you can to prevent an emergency in the first place – especially when that emergency requires a total furnace replacement. We offer estimates specifically to make sure anyone who may need our assistance has access to the expertise and counsel of our skilled furnace replacement team. In fact, ours are the same technicians who are renowned for effectively caring for and handling the replacement of furnaces for more than 5,000 different commercial, residential, and even some industrial properties throughout the region. That means, virtually anything you need to ease your transition, from advice on choosing which of our RUUD models is right for you, to installation services, repairs, and maintenance schedules, our replacement specialists have it covered! So please, don't wait until it's too late. Take advantage of our more than 30 years of furnace replacement experience right now and take back control of your comfort today! We'll even give you a call when we're almost to Inkster. Just trust AFM Heating & Cooling, and never stress over your furnace replacement again!
We install RUUD brand furnaces, and we service nearly every make and model of furnace: Ruud, Tempstar, Rheem, Trane, Amana, American Standard, Carrier, Bryant, Lennox, Heil, Goodman, York and more.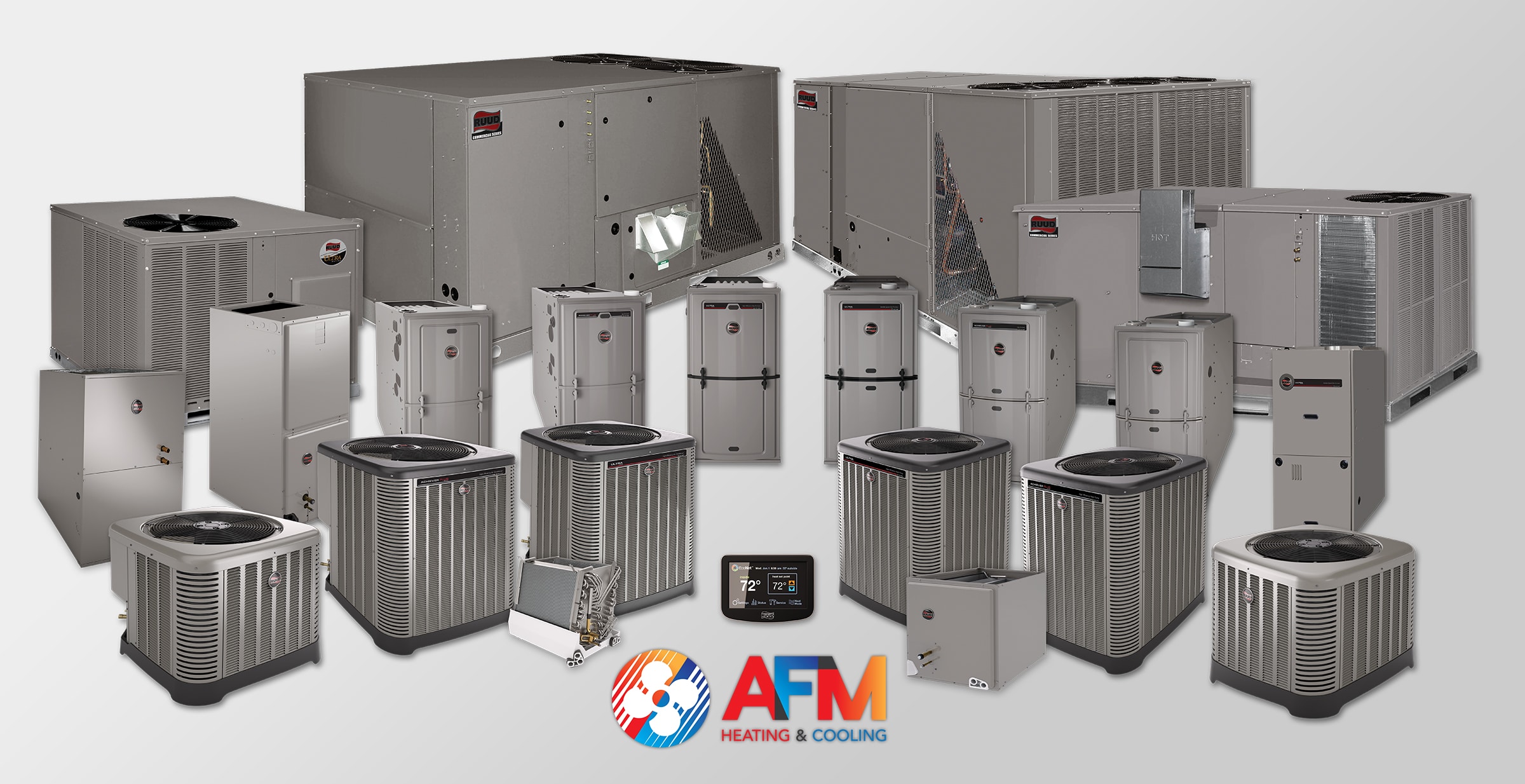 Furnace Replacement Inkster MI
At AFM Heating & Cooling, we are beyond proud to offer Southeast Michigan's most comprehensive furnace replacement services to residents of Inkster, MI. After all, with Detroit to the east, Lake Erie directly south, Southfield to the north, and Ann Arbor not far west, many residents of Inkster don't even spend much time inside, let alone think too hard about the functionality of their HVAC systems. Instead, most are out boating, shopping, and otherwise enjoying the wealth of entertainment just outside Inkster's borders. Of course, there's nothing wrong with this. Inkster is in the perfect location to take advantage of some of Michigan's best attractions and opportunities. The problem is, not paying close enough attention to your property back home in Inkster means never knowing when it's time for a furnace replacement – and that can cost you big in more ways than one! Thankfully though, our remarkably knowledgeable technicians at AFM Heating & Cooling can help. Simply invite us out to Inkster to inspect your systems at least once a year, or whenever you're having problems, and we'll make sure you have all the information you need to make the most cost-efficient investments while still prioritizing your budget and comfort. In fact, you may even find yourself feeling so cozy you have to think twice about leaving Inkster again!
If you are looking for experienced and top-rated furnace replacement Inkster MI, call AFM Heating & Cooling today at 734.464.6700 for a free consultation, or simply fill out the form below:
Free Consultation on New Equipment*