Are you looking for furnace replacement Plymouth MI?
One of the most dangerous things about severely cold weather is that most people don't realize just how dangerous it can be. In fact, many people wouldn't even be able to tell if their body temperature was becoming dangerously low. This is why having your furnace break down in the middle of winter can be a scary situation, and why we need you to know our replacement specialists at AFM Heating & Cooling are committed to always being here for you, anytime – literally. No matter what time it is, our 24/7 emergency services ensure that you are ever left out in the cold when you're in need of rescue. We'll even give you a call when one of our technicians is on their way. More importantly though, you can trust our furnace replacement specialists to know exactly what they're doing. From advising you on which of our high efficiency RUUD models is right for your property, to getting your replacement installed and keeping it maintained, our seasoned furnace replacement experts have been taking care of it all for more than 5,000 property owners for over 30 years! So, if you own any sort of private residential, commercial, or small industrial property, request an estimate at AFM Heating & Cooling today to learn more about whether or not a furnace replacement is the right move for your property in Plymouth.
We install RUUD brand furnaces, and we service nearly every make and model of furnace: Ruud, Tempstar, Rheem, Trane, Amana, American Standard, Carrier, Bryant, Lennox, Heil, Goodman, York and more.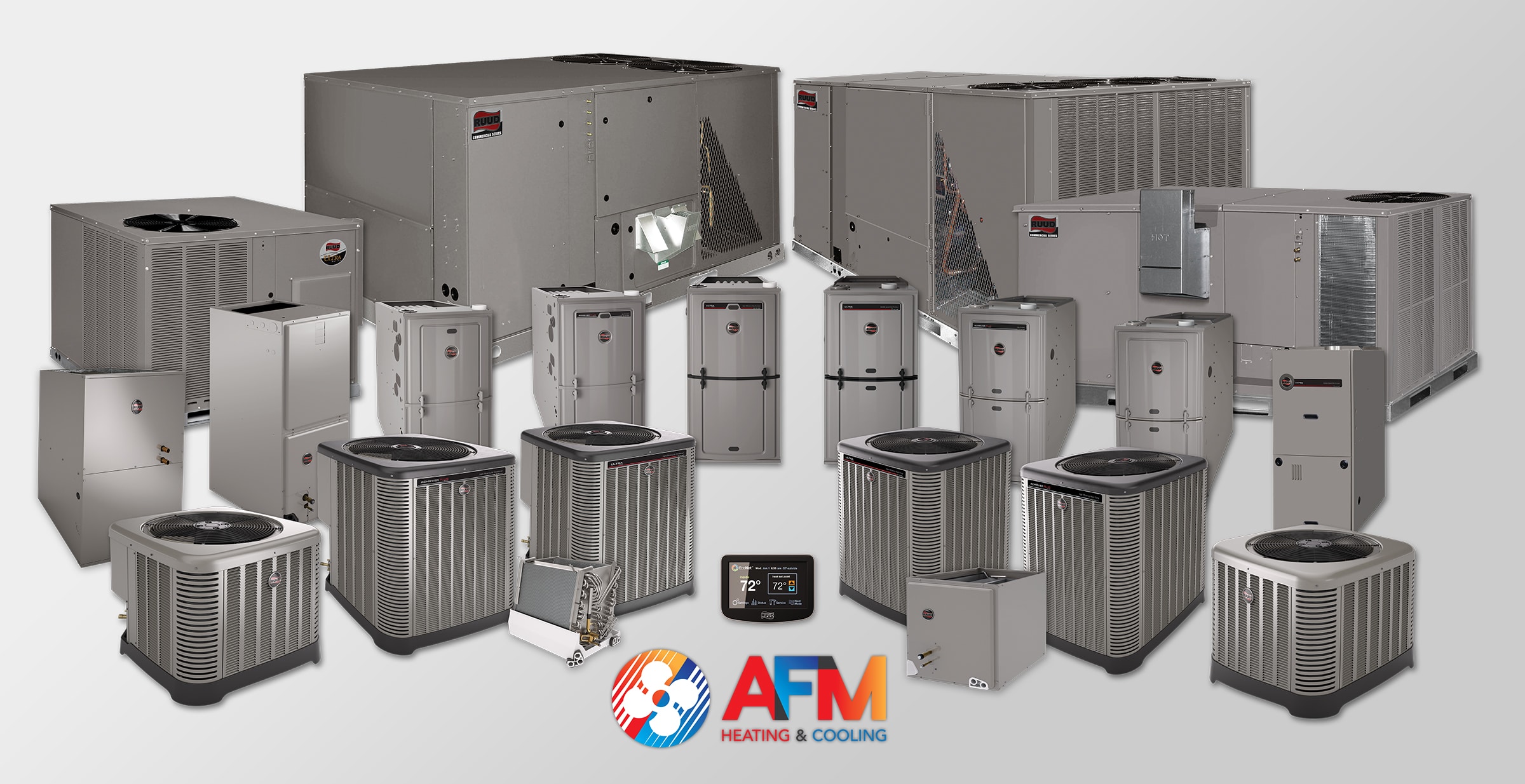 Furnace Replacement Plymouth MI
At AFM Heating & Cooling, we are beyond proud to offer Southeast Michigan's most comprehensive furnace replacement services to residents of Plymouth, MI. After all, whether you're looking at just Plymouth, or the entirety of Plymouth Township, it's easy to be blown away be the sheer volume of entertainment available, even though traditional attractions are still limited. Kellogg Park and the Plymouth Orchard and Cider Mill, for instance, are merely two of the many natural destinations known to offer a great time for individuals and families alike. If you're looking for more modern fun, Plymouth is even just outside Ann Arbor. Just keep in mind while you're out there taking advantage of Plymouth and its many opportunities, your furnace never stops working hard to ensure your comfort – so don't be afraid to show it a little love. In fact, if it's been a while since its last replacement, consider getting in touch with our friendly technicians at AFM Heating & Cooling to see if a newer replacement might do your furnace – and your property in Plymouth as a whole – some good!
If you are looking for experienced and top-rated furnace replacement Plymouth MI, call AFM Heating & Cooling today at 734.464.6700 for a free consultation, or simply fill out the form below:
Free Consultation on New Equipment*