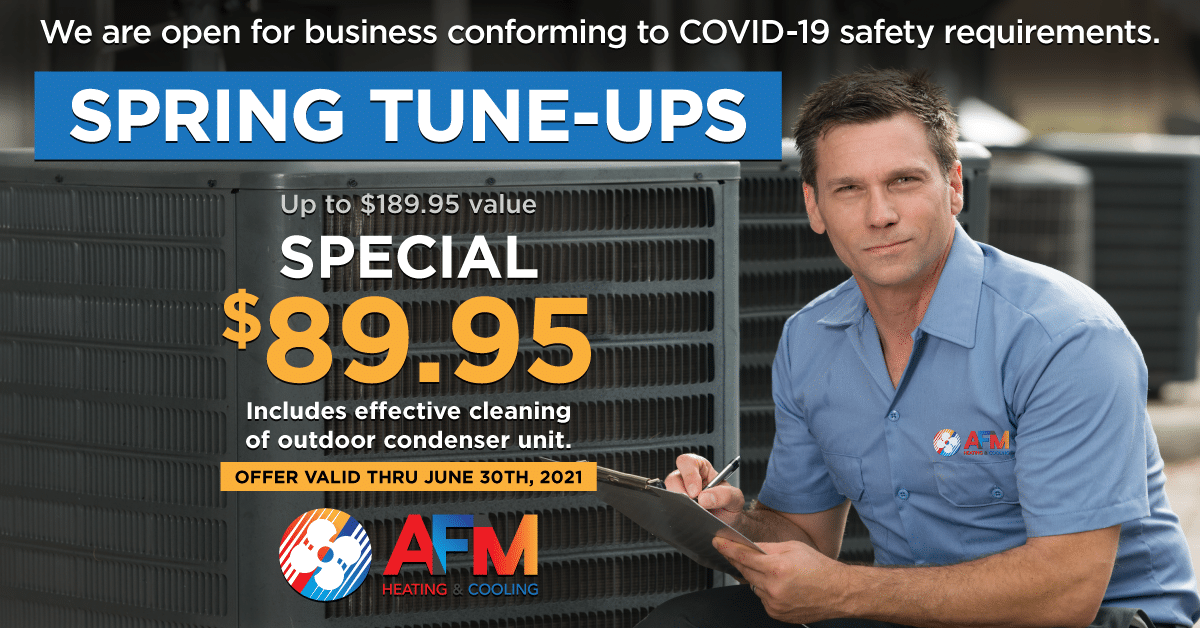 It's that time of year again – the time to get a spring tune-up for your air conditioner so that it's ready to keep you cool all summer long. And lucky for you, it's even easier now because AFM Heating & Cooling is not only open, but also conforming to all possible COVID-19 safety requirements to make sure we can continue to bring you incredible deals on all the HVAC services your property needs this season!
As you likely know, routine A/C tune-ups are so important for maintaining the efficiency of your system, especially when all it takes is 0.042 inches of dust, dirt, pet hair, and other contaminants to lower the efficiency of your entire unit by up to as much as 21%, leaving you on the hook for the extra costs. Neglect to ever get your unit cleaned at all and you might as well start outright asking for big problems that require major repairs, and lead to inevitable early replacement. So skip all of that and take advantage of AFM Heating & Cooling's magnificent Spring 2021 Special: Spring Tune-Up for $89.95 instead!
Limited Time Offer: Expires June 30th, 2021
Currently, you can get your property's spring tune-up, including a wealth of useful services equaling up to $189.95 in value, for the extraordinarily low price of only $89.95 – and that includes a thoroughly effective cleaning of your outdoor condenser unit as well, which is specifically known to collect all kinds of debris! That means, by spending less than just $90, you can get nearly $190 worth of services capable of saving your hundreds, or even thousands, more dollars one repairs and other problems that would have otherwise popped up later on in the season! You have to hurry though; our special 2021 spring special will only be valid through June 30th, 2021 so you're going to want to make sure you make your appointment fast.
You Can't Go Wrong Choosing AFM Heating & Cooling
AFM Heating & Cooling is an industry-leading HVAC services provider devoted entirely to making sure your property has absolutely everything it needs to thrive, and keep you, and everyone inside, safe and comfortable throughout the year no matter how unpredictable temperatures get. Want to make your time with us even more worthwhile? Ask your technician about enrolling in one of our amazing maintenance plans that can help keep all your HVAC systems in perfect working for years to come. Not only will you be able to continue to save on all the services you need, but you'll also be able to avoid some of the most common problems that often have home and business owners seeking frequent repairs! Just reach out now, and our team at AFM Heating & Cooling will make sure you never have to worry about your heating or cooling again! Call 734.464.6700 today to take advantage of AFM Heating & Cooling's  Spring 2021 Special: Spring Tune-Up for $89.95!