Are you looking for an air conditioner replacement Ann Arbor MI?
If your home is well insulated and your air conditioning goes out, it doesn't take long for it to start to feel hotter inside than it is outside. Between a lack of air circulation, and the sun generating additional warmth during the day, it can actually get pretty uncomfortable pretty fast. That's why, if you're in desperate need of a little cooling off, you should get ahold of AFM Heating & Cooling to learn more about the benefits of an air conditoner replacement. We offer the absolute highest efficiency RUUD brand air conditioning replacement units available, capable of easily accommodating the needs of residential and commercial/industrial clients alike. Plus, for more than 30 years our capable technicians have been handling the vast heating and cooling needs, including air conditioning replacements, for more than 5,000 property owners throughout the region. Even if you're not sure what kind of replacement air conditioning unit you need, our technicians have the answers you're looking for. Simply schedule a no obligation estimate to find out everything you need to know! We'll make sure one of our air conditioning replacement specialists from AFM Heating & Cooling is on their way to Ann Arbor to give you peace of mind in no time. Truthfully, finding a replacement air conditioning unit, fantastic installation services, and incredible maintenance plans all in one place has never been easier!
We install RUUD brand air conditioners, and we service nearly every make and model of air conditioner: Ruud, Tempstar, Rheem, Trane, Amana, American Standard, Carrier, Bryant, Lennox, Heil, Goodman, York and more.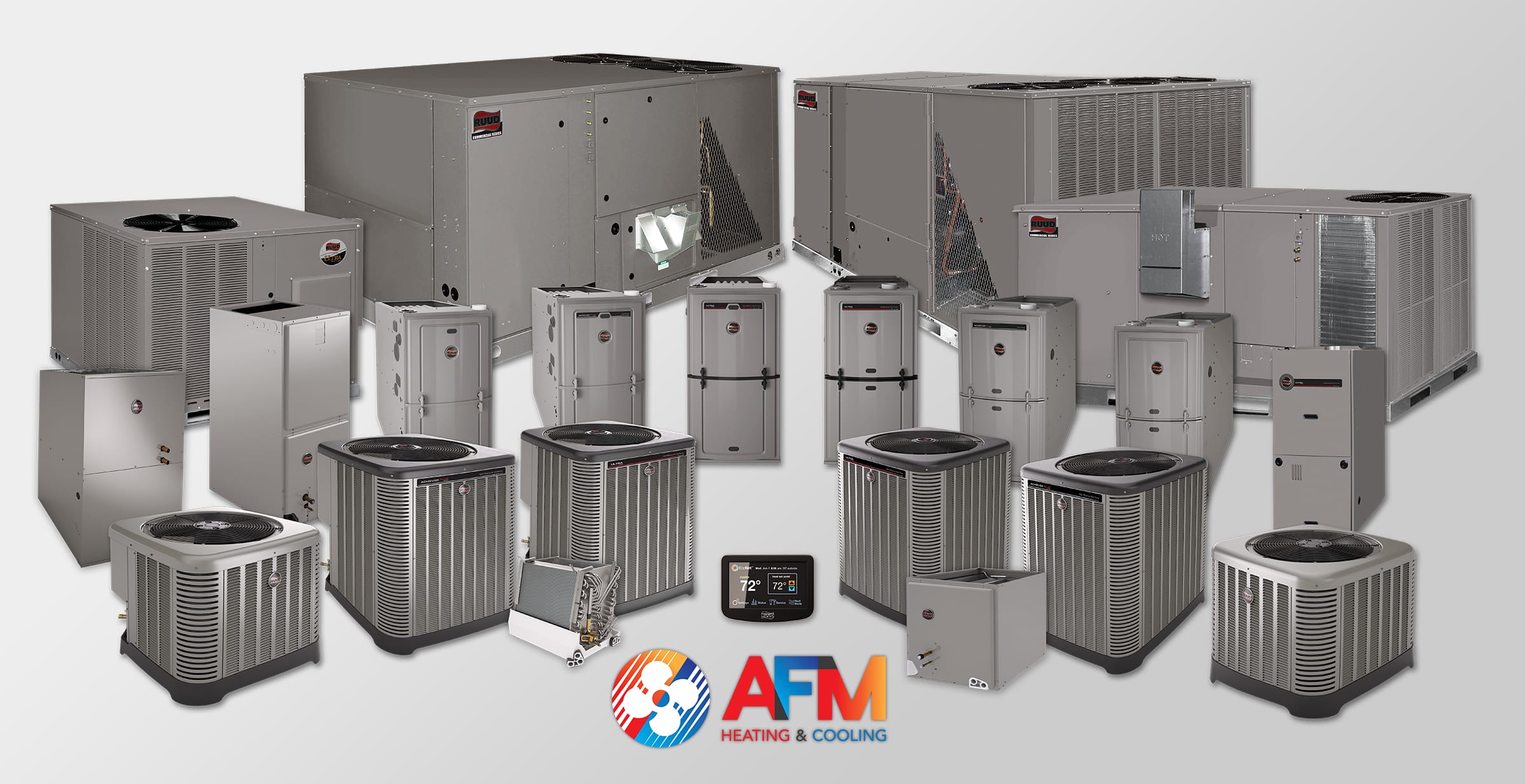 Air Conditioner Replacement Ann Arbor MI
At AFM Heating & Cooling, we are beyond proud to offer Southeast Michigan's most comprehensive air conditioning replacement services to residents of Ann Arbor, MI. After all, Ann Arbor may be the county seat of Washtenaw County, and one of the most vibrant cities in the region outside Detroit, but it's its attractions throughout the city that make it truly one-of-a-kind. From the Michigan Stadium and Matthaei Botanical Gardens, to the Ann Arbor Farmers Market and Nichols Arboretum, there are almost an infinite number of places across Ann Arbor to enjoy a fun summer afternoon in the sun. Plus, if you head just a little ways north of Ann Arbor, you'll hit the Pinckney Recreation Area and its wealth of lakes and trails as well for even more outdoor entertainment. Just remember, the last thing you want after a long day of exploring Ann Arbor is to head home and find it's all hot and stuffy inside because your air conditioning went out while you were gone. So please, whether you're actually in need of a replacement now, or you're not even sure, trust our seasoned technicians at AFM Heating & Cooling. We'll make sure you're properly taken care of and that your life in Ann Arbor can finally return to normal!
If you are looking for experienced and top-rated air conditioner replacement Ann Arbor MI, call AFM Heating & Cooling today at 734.464.6700 for a free consultation, or simply fill out the form below:
Free Consultation on New Equipment*