Are you looking for air conditioning installation Dearborn Heights MI?
In Michigan, humidity levels have been known to reach as high as 85% during the summer, which can make everything feel ten times hotter than it is. Thankfully, however, in addition to cooling, air conditioners are also responsible for removing moisture as well. Of course, if your air conditioning doesn't work, or you currently don't have one at all, your summertime is likely bringing you nothing but sweat and misery. That's why, before you succumb to the blazing heat, we encourage you to get in touch with our extraordinary air conditioning installation experts at AFM Heating & Cooling as quickly as possible. Beyond simply offering efficient and reliable installation services, our air conditioning installation specialists have a vast amount of experience working with all the most popular brand systems. In fact, our air conditioning experts have more than 50 years worth of combined installation and repair experience, and already satisfy more than 5,000 commercial and residential clients in Dearborn Heights and beyond. That means, no matter what type of unit you're purchasing, you never have to worry about it not being set up just right. After all, precise installation is key to ensuring the overall functionality and efficiency of your air conditioning unit, which can save you money, so it's well worth it to make sure you choose the right team the first time around – and by that we mean our team of magnificent air conditioning installation technicians at AFM Heating & Cooling!
We install RUUD brand air conditioners, and we service nearly every make and model of furnace: Ruud, Tempstar, Rheem, Trane, Amana, American Standard, Carrier, Bryant, Lennox, Heil, Goodman, York and more.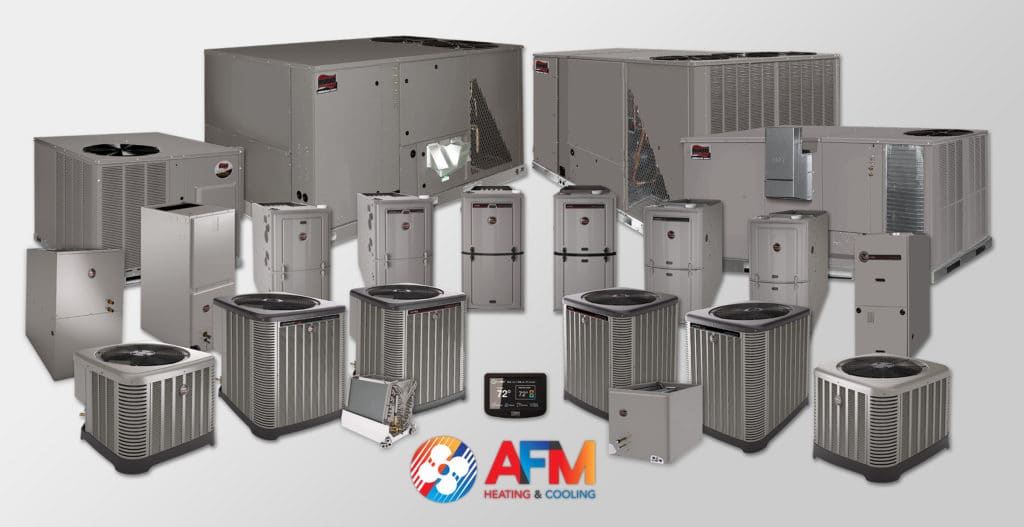 Air Conditioning Installation Dearborn Heights MI
At AFM Heating & Cooling, we are beyond proud to offer Southeast Michigan's favorite air conditioning installation services to Dearborn Heights, MI. As far as residential communities go, Wayne County's beautiful city of Dearborn Heights is truly one of most well balanced. Anyone who lives in Dearborn Heights has the freedom to explore numerous massive scenic parks surrounding the area, enjoy a vast assortment of local attractions, and visit the vibrant city of Detroit anytime they want. Not to mention, Dearborn Heights' beautiful neighborhoods are home to more than 55,000 people, which only adds its suburban charm and local diversity. However, it's important to keep in mind that whether you're at home in Dearborn Heights, or out on the town in Detroit, in the summer it's going to get hot no matter what you do. That's why the best thing you can do to ensure you comfort in Dearborn Heights is make sure your air conditioning is working properly. Thankfully though, even if it's not, the solution is still simple – just reach out to our talented air conditioning installation experts at AFM Heating & Cooling, and let us know what we can do to make your home in Dearborn Heights as comfortable for you as possible.
If you are looking for experienced air conditioning installation Dearborn Heights MI, call AFM Heating & Cooling today at 734.464.6700 for a free consultation, or simply fill out the form below:
Free Consultation on New Equipment*