Are you looking for air conditioning installation Redford MI?
When the sun is shining in the summer, it's easy to smile. However, it's not so easy to smile when your air conditioning can't keep up with the summer heat and the temperature inside your home begins to creep closer and closer to discomfort. That's why, if your air conditioning is not in exceptional condition and functioning to your liking, we ask you to consider letting our installation technicians at AFM Heating & Cooling see if we can find you a better, more comfortable HVAC solution. After all, our resourceful installation team is already highly equipped and capable of accurately assessing the HVAC demands of any size commercial or residential building, as well as recommending and properly setting up ideal air conditioning units accordingly. And it's all thanks to our remarkable installation specialists' more than 50 years worth of combined air conditioning installation experience, which so far has allowed us to succeed in satisfying thousands of clients throughout the region. So, really all you need to do is decide you're ready to treat your property in Redford the way it deserves and let our seasoned air conditioning installation professionals at AFM Heating & Cooling do what we do best – handle the quick and efficient installation of your new air conditioning system today!
We install RUUD brand air conditioners, and we service nearly every make and model of furnace: Ruud, Tempstar, Rheem, Trane, Amana, American Standard, Carrier, Bryant, Lennox, Heil, Goodman, York and more.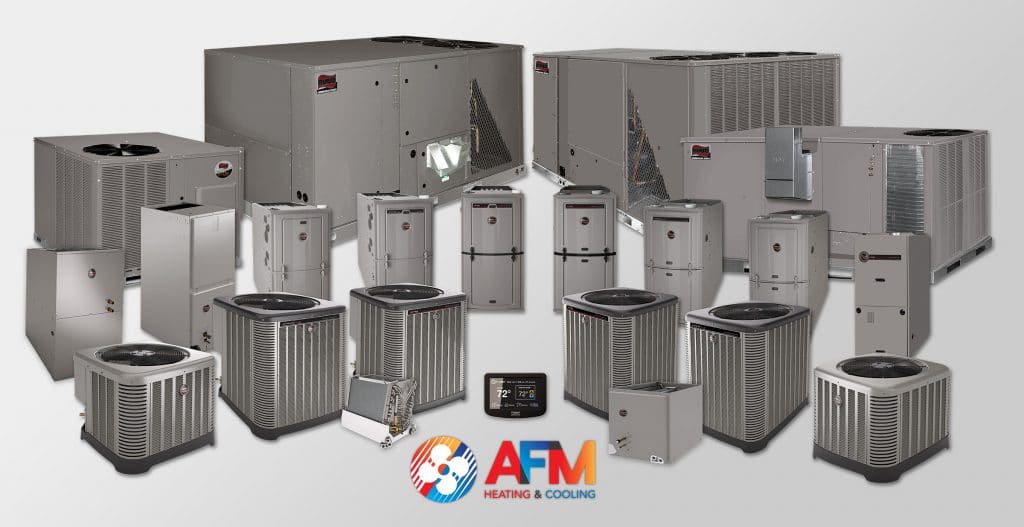 Air Conditioning Installation Redford MI
At AFM Heating & Cooling, we are beyond proud to offer Southeast Michigan's favorite air conditioning installation services to the residents of Redford, MI. The Charter Township of Redford in Wayne County, or Redford for short, is an incredible place where just under 50,000 people live their picturesque suburban lives. At least, that's the best way to describe Redford. From River Rouge and Rotary Parks, to the Redford Theatre and the Sri Shirdi Saibaba Temple, there are simply too many wonderfully diverse things to enjoy in Redford to really give it one finite description. However, two things that are finite in the township of Redford, are sunshine during the summer and residential happiness. That's why, before things have a chance to get a little too hot for comfort and spoil everyone's fun, we encourage you to have your property checked out by our air conditioning experts at AFM Heating & Cooling. Whether you need a new air conditioning system but don't know what kind, or your just need the installation services, we know beyond the shadow of a doubt you can trust our team to make sure everything gets taken care of for you!
If you are looking for experienced air conditioning installation Redford MI, call AFM Heating & Cooling today at 734.464.6700 for a free consultation, or simply fill out the form below:
Free Consultation on New Equipment*