Are you looking for air conditioning installation Romulus MI?
Everyone knows and loves the warm feeling of the sun on their skin, especially after a particularly long winter. However, no one loves feeling the full consequences of the heat from not having adequate air conditioning. That's why, if you're having any sorts of problems with your HVAC system, or you think it may be useless for good, we encourage you to get in touch with our incredible air conditioning installation experts at AFM Heating & Cooling. Our seasoned installation professionals have been setting up, repairing, maintaining, and disassembling just about any and every type of air conditioning system for our more than 5,000 clients for over 30 years. In fact, altogether, our installation specialists have more than 50 years worth of hands-on air conditioning-related experience – all of which you can benefit from. All you have to do is let us know precisely what you need, and we'll be there. It doesn't matter if you're a business owner of with a commercial property the size of the Detroit Metro Airport, or a homeowner just hoping to keep balance the humidity levels inside your home, we know our air conditioning experts can handle all your HVAC and installation needs. At AFM Heating & Cooling, we're all about satisfying out clients and ensuring we provide the best installation services in Romulus and beyond. So don't be shy, and certainly don't waste another moment sweating in your own home. Instead, trust our air conditioning installation professionals today. We can't wait to help, and we know we can have your air conditioning back up and running in no time.
We install RUUD brand air conditioners, and we service nearly every make and model of furnace: Ruud, Tempstar, Rheem, Trane, Amana, American Standard, Carrier, Bryant, Lennox, Heil, Goodman, York and more.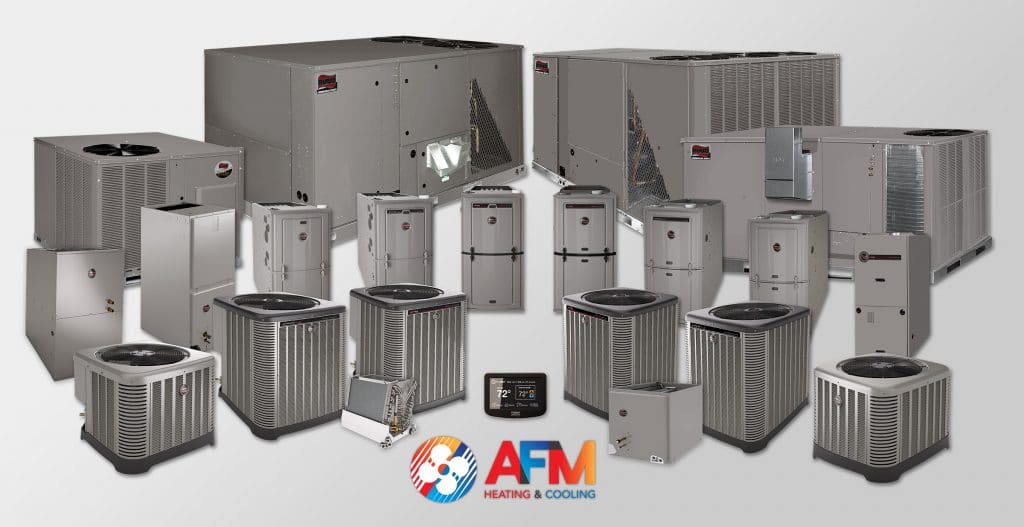 Air Conditioning Installation Romulus MI
At AFM Heating & Cooling, we are beyond proud to offer Southeast Michigan's favorite air conditioning installation services to the residents of Romulus, MI. Wayne County's almost entirely residential city of Romulus may not have many conventional attractions to call its own, but it is still known throughout the world by those embarking on all sorts of adventures. Of course, that's because Romulus is home to the infamous Detroit Metropolitan Wayne County Airport where travelers from around the world make their stops. Aside from that though, Romulus is actually a rather serene place. It encompasses part of the Lower Huron Metropark, and is adjacent to Belleville Lake. Plus if you are looking for more excitement, Romulus is located right at the cross section of I-94 and I-275, which makes travel back and forth from the city truly as convenient as possible. However, no matter how much traveling you may like to do, you probably already know there's no place like home, especially when you live in Romulus. That's why, it's crucial you make sure you keep your property in Romulus in pristine condition as best you can to ensure it's always ready to comfort your before and after your travels – and we want to help. Air quality is so important, both for your health and the well-being of your assets. So the next time you're having trouble keeping things cool, make the right choice and count on our air conditioning installation technicians at AFM Heating & Cooling!
If you are looking for experienced air conditioning installation Romulus MI, call AFM Heating & Cooling today at 734.464.6700 for a free consultation, or simply fill out the form below:
Free Consultation on New Equipment*