Are you looking for air conditioning installation Taylor MI?
In Michigan during the summer, no amount of ice water or days out on the water can compensate for a lack of air conditioning – it's just not possible. Air conditioning units are responsible for more than just cooling air, they also dehumidify at the same time to reduce moisture in the air, which is essential for surviving Michigan's 75% to 85% humidity average. That's why, if your air conditioning isn't functioning properly, or at all, you need to get in touch with our seasoned installation professionals at AFM Heating & Cooling right away. Excess humidity is not only extremely bad for your health and the health of your family; it's bad for your home as well. It can cause mold and mildew, increase allergy sensitivities, cause upper respiratory problems, damage furnishings, and more, not to mention make everyone miserable. But the good news is, our air conditioning installation experts are here to rescue you, and you definitely can trust us. Our installation team offers more than 50 years combined experience working with all different kinds of HVAC brands for more than 5,000 different commercial and residential clients across the region. We know everything there is to know about utilizing proper installation methods to increase system efficiency, and are committed to ensuring your air conditioning is cool, crisp, and cost-effective. So, if you're in need of air conditioning installation assistance to restore your home in Taylor to its rightful temperature and reclaim your comfort, choose our installation champions at AFM Heating & Cooling today.
We install RUUD brand air conditioners, and we service nearly every make and model of furnace: Ruud, Tempstar, Rheem, Trane, Amana, American Standard, Carrier, Bryant, Lennox, Heil, Goodman, York and more.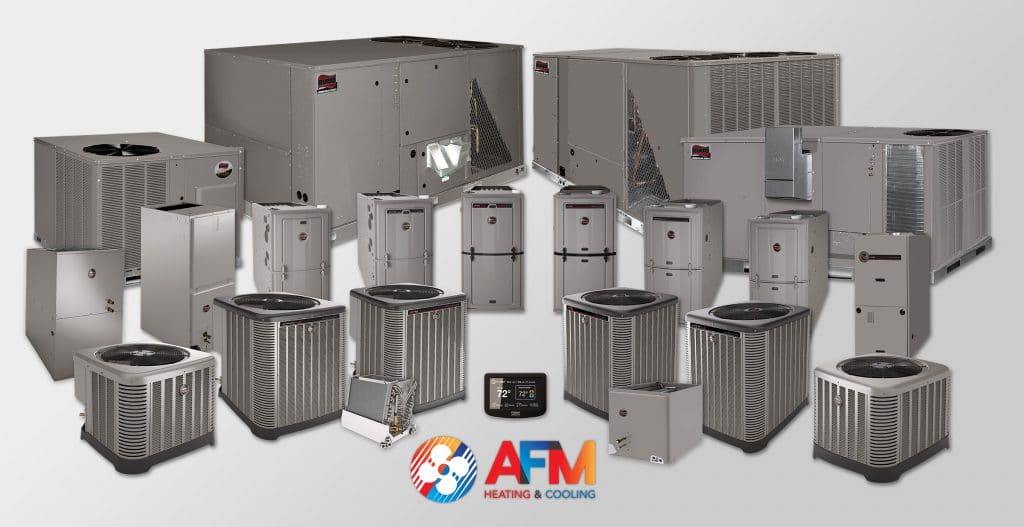 Air Conditioning Installation Taylor MI
At AFM Heating & Cooling, we are beyond proud to offer Southeast Michigan's favorite air conditioning installation services to the residents of Taylor, MI. Formally known as Taylor Township, Wayne County's city of Taylor was incorporated after citizens voted it in in 1968, making it the 17th most populated city in the state – and rightfully so. Despite being a primarily residential community, Taylor is still home to plenty of local treasures, like the Southland Shopping Center, Taylor Sportsplex, Heritage Park, Lakes of Taylor Golf Course, and more. However, as nice as it is to spend the day outside, and as many incredible outdoor destinations as Taylor seems to have, it's still important to make sure your own home is ideally cared for to ensure your maximum comfort no matter where you are – and we can help! Just let us know anytime your air conditioning is acting up, and our installation professionals at AFM Heating & Cooling will be right over to see precisely what we can do to be of service to you!
If you are looking for experienced air conditioning installation Taylor MI, call AFM Heating & Cooling today at 734.464.6700 for a free consultation, or simply fill out the form below:
Free Consultation on New Equipment*