Are you looking for air conditioning installation Ypsilanti MI?
It may seem like your air conditioning unit is the type of thing you can set up and forget about, but that's simply not true. It requires annual cleanings, routine care, and active attention to function efficiently and save you money, and is sensitive even to the slightest alterations in its foundation. For instance, if you're air conditioning unit does not stay perfectly level at all times, it may end up working twice as hard to keep up with your home's cooling demands, not to mention cost you twice as much. Fortunately, the solution to all these problems is simple. Simply trust our air conditioning and installation experts at AFM Heating & Cooling – always, with whatever you need. Our installation team offers more than 50 years combined HVAC experience, and can easily handle air conditioning unit installations for any size commercial or residential property you own. In fact, our installation team is already responsible for optimizing the air quality, and ensuring ideal temperature and humidity balances, of more than 5,000 properties. So before you turn to your smartphone to tell you who near Ypsilanti you should trust with your property's air conditioning, first consider our installation professionals at AFM Heating & Cooling. Not only do we know our installation experts have the skill and integrity to quickly replace your air conditioning system and satisfy you, we have a strong, genuine desire to do so thanks to our immense passion for all things HVAC!
We install RUUD brand air conditioners, and we service nearly every make and model of furnace: Ruud, Tempstar, Rheem, Trane, Amana, American Standard, Carrier, Bryant, Lennox, Heil, Goodman, York and more.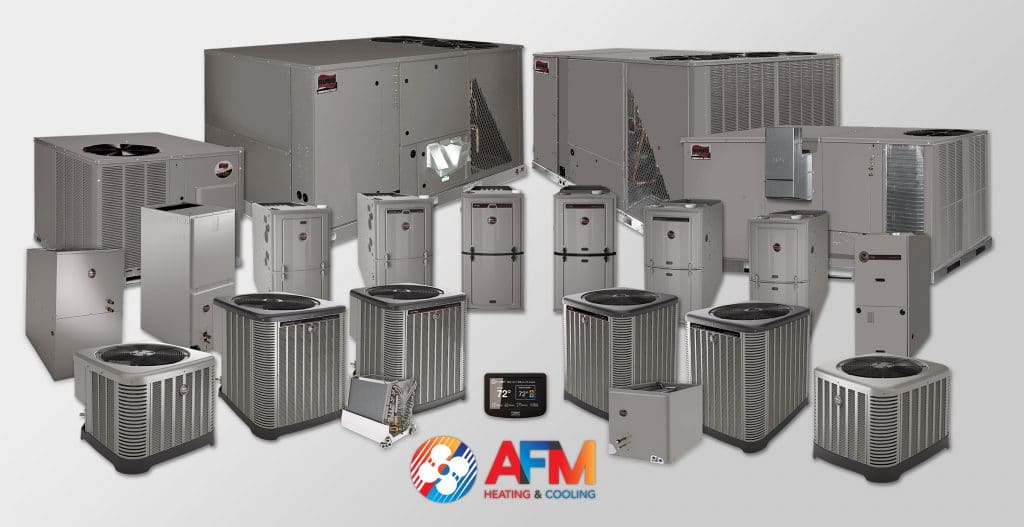 Air Conditioning Installation Ypsilanti MI
At AFM Heating & Cooling, we are beyond proud to offer Southeast Michigan's favorite air conditioning installation services to the residents of Ypsilanti, MI. Just outside Ann Arbor, practically surrounded by Ypsilanti Township, Washtenaw County's incredible city of Ypsilanti provides a way of life for its residents unlike any other. It was named after Demetrios Ypsilantis, a hero in the Greek War of Independence, in 1825, and has grown throughout the years to become one of the nicest, most popular neighborhoods in the area. The city itself is beautiful, featuring countless colorful buildings and historical charm. Plus, Ypsilanti offers a wide variety of rare attractions you won't find anywhere else, including the gorgeous Starkweather Chapel and Depot Town. And if all that wasn't enough, Ypsilanti is also surrounded by plenty of inland lakes and incredible parks to keep anyone occupied on a bright, sunny summer day. Just remember to make sure your home in Ypsilanti is always ready for your return by letting our talented installation professionals at AFM Heating & Cooling handle all your air conditioning and HVAC concerns year round!
If you are looking for experienced air conditioning installation Ypsilanti MI, call AFM Heating & Cooling today at 734.464.6700 for a free consultation, or simply fill out the form below:
Free Consultation on New Equipment*