Are you looking for air conditioning repair Redford MI?
Nowadays a functioning air conditioning unit is an absolute must. After all, you never know when the heat will suddenly swoop in, which is why it is so important to keep an eye on things and be proactive when you're in need of repairs. Of course, choosing whom you're going to trust with your potentially complex air conditioning repairs is equally important. You need to make sure you're choosing people you can trust, people who are committed to your needs and satisfaction above all else – and that can be hard to find. But the good news is, we're right here! At AFM Heating & Cooling, our air conditioning repair professionals offer everything you could possibly be looking for. Experience? Altogether our air conditioning repair professionals have dedicated more than 30 years to taking care of more than 5,000 commercial and residential properties across Southeast Michigan. Skill? Our team's vast experience has allowed our air conditioning repair specialists the great pleasure of being able to care for nearly any brand HVAC system you might have. Honesty and reliability? Well, let's just say our pricing is always straightforward and based on thorough initial assessments, we will always be there for you the same day you actually need us, and we'll even give you a 30 minutes heads up to let you know precisely when you can expect our air conditioning repair technician to arrive! What more could you ask for? Take advantage of our exceptional services at AFM Heating & Cooling for your property in Redford and see exactly what all the hype is about today – we're confident you won't regret it!
We service nearly every make and model of air conditioner: Ruud, Tempstar, Rheem, Trane, Amana, American Standard, Carrier, Bryant, Lennox, Heil, Goodman, York and more.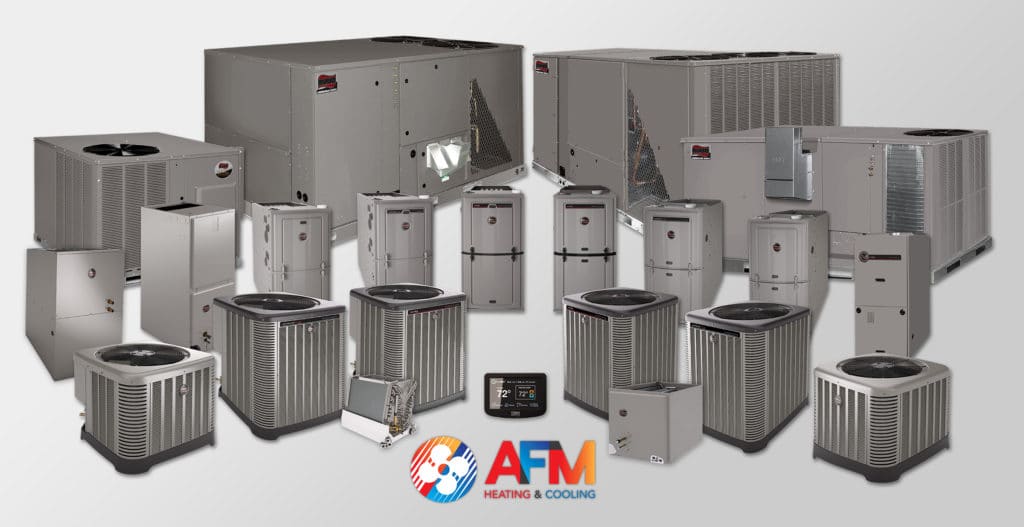 Air Conditioning Repair Redford MI
At AFM Heating & Cooling, we are beyond proud to offer Southeast Michigan's favorite air conditioning repair services and specialists to the wonderful people of Redford, MI. Redford, also known officially as the Charter Township of Redford, is an amazing suburb of Detroit in Wayne County. Its nearly 50,000 residents have access to great schools, fantastic communal amenities, numerous parks, and several worthwhile Redford original attractions nearby. Plus, Redford offers a wide variety of beautiful, affordable homes for its diverse populace. However, if your home, like most of the homes in Redford, was built sometime before the 70's and you haven't ever had your air conditioning unit replaced, you definitely should make sure it isn't in need of repairs. After all, you would hate to find yourself suffering Redford's sweltering summer heat all of a sudden because your HVAC system just couldn't keep up with your home's demands anymore!
If you are looking for experienced air conditioning repair Redford MI, call AFM Heating & Cooling today at 734.464.6700 for a free consultation, or simply fill out the form below:
Free Consultation on New Equipment*