Are you looking for furnace installation Ann Arbor MI?
If you have a commercial or residential property that's in need of a new furnace, we hope you'll consider letting our experts at AFM Heating & Cooling take care of both your purchase and installation. Not only is it much easier and more cost-effective for you to get everything taken care of all in one place, it's also a surefire way to guarantee that those responsible for handling your furnace's installation are already acutely familiar with the system you've purchased. For instance, we offer high quality RUUD brand furnaces for homes of all sizes, and our furnace installation experts know precisely how to get them up and running quickly to immediately optimize the air quality of any home or business, thanks to their more than 30 years combined experience servicing more than 5,000 properties throughout the area. Best of all, in addition to our exceptional selection of furnaces and HVAC systems, and our unparalleled installation services, we even offer various maintenance plans to help keep your property in Ann Arbor in ideal shape for years to come – saving you a ton of money on future replacements and/or repairs. So what do you say? Don't let your desperate need for a new furnace keep you from getting the best deal on your HVAC system or installation! Our furnace experts at AFM Heating & Cooling can easily help you choose the right unit for your property in Ann Arbor right away, as well as handle all the installation in no time!
We install RUUD brand furnaces, and we service nearly every make and model of furnace: Ruud, Tempstar, Rheem, Trane, Amana, American Standard, Carrier, Bryant, Lennox, Heil, Goodman, York and more.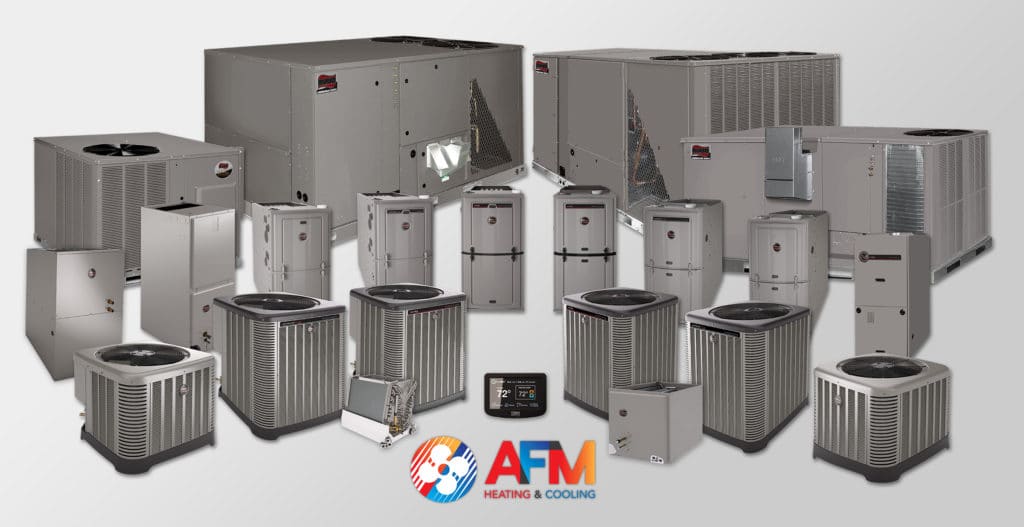 Furnace Installation Ann Arbor MI
At AFM Heating & Cooling, we are beyond proud to offer Southeast Michigan's favorite furnace installation services to Ann Arbor, MI. Ann Arbor is a massive city, and a truly wonderful place to call home. However, Ann Arbor can also get pretty cold during the winter, reaching as low as 18 degrees below zero in 2019 alone. The good news is, with our help, your home or business in Ann Arbor won't ever have to suffer no matter how cold future winters in this area get. At AFM Heating & Cooling, we offer the best selection of furnaces around, as well as the most experienced and compassionate team of installation professionals. If temperatures in Ann Arbor start to take a turn for the worst and your home simply isn't ready, our seasoned furnace experts are always ready to jump in and help! In order for your property in Ann Arbor to benefit from our team's special touch, you have to let us know when you need us. Luckily, no matter when that is, our responsible team of air quality specialists at AFM Heating & Cooling is always here for you!
If you are looking for experienced furnace installation Ann Arbor MI, call AFM Heating & Cooling today at 734.464.6700 for a free consultation, or simply fill out the form below:
Free Consultation on New Equipment*