Are you looking for furnace repair Allen Park MI?
If the cold weather in Allen Park has got you down, and your HVAC systems just aren't measuring up to your standards, it might be time for you to consider having your furnace looked at and/or repaired. After all, cold weather in Michigan is nothing to joke about, and it definitely keeps our remarkable furnace repair specialists busy throughout the season. In fact, at AFM Heating & Cooling, our spectacularly seasoned furnace repair experts already help more than 5,000 home and business owners create and maintain idyllic atmospheres, and have been doing so for close to 30 years! No matter what problems or inconveniences you seem to be experiencing with your furnace, we're confident we can have it repaired quickly and effectually, thanks to our convenient same-day service. You need a furnace repair team you can count on, comprised of trustworthy technicians who you're certain have your back, based on a long reputation of undeniable excellence throughout and beyond Allen Park. You need our compassionate furnace repair professionals at AFM Heating & Cooling.
We service nearly every make and model of furnace: Ruud, Tempstar, Rheem, Trane, Amana, American Standard, Carrier, Bryant, Lennox, Heil, York and more.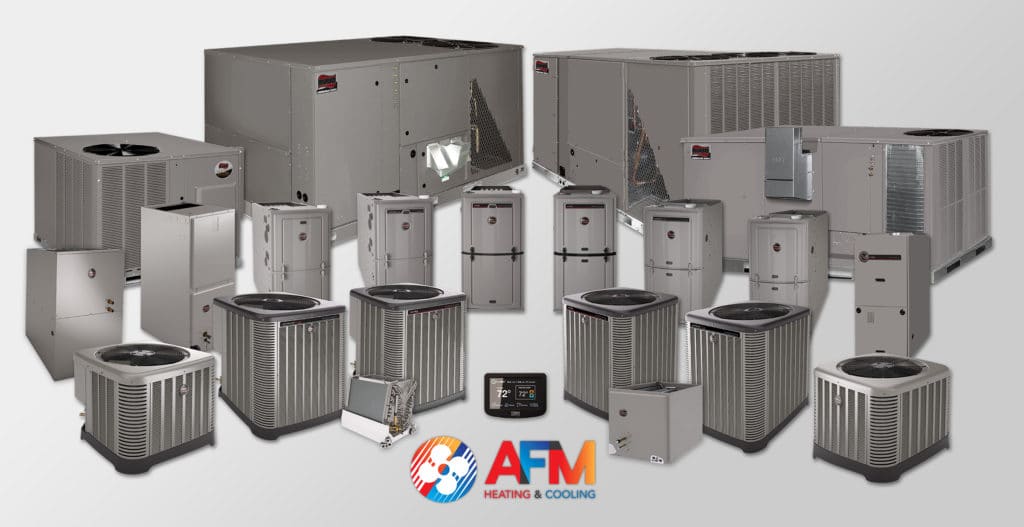 Furnace Repair Allen Park MI
At AFM Heating & Cooling, we are beyond proud to offer Southeast Michigan's favorite furnace repair services and specialists to the wonderful people of Allen Park, MI. Wayne County's Downriver city of Allen Park may be a charming little suburb of Detroit, and it may have even once been revered as on the Best Small Cities in America, but when it comes to the cold, residents of Allen Park are just like everyone else. Frigid winds and temperatures below zero, like the ones experienced at the beginning of 2019 during the polar vortex, never discriminate – which is why we encourage all residents of Allen Park to check your furnace today, as soon as you can. Make sure the filter is clean, and there are no crack or leaks to worry about, and if you see anything at all that you even think is an issue, get it repaired immediately. You do not want to be left in a city so far north as Allen Park, when winter rolls around, if your furnace struggles to keep your home warm enough. Protect your loved ones. Protect your beloved home in Allen Park. Get in touch with our amazing HVAC service professionals at AFM Heating & Cooling, today.
If you are looking for experienced furnace repair Allen Park MI, call AFM Heating & Cooling today at 734.464.6700 for a free consultation, or simply fill out the form below:
Free Consultation on New Equipment*