Are you looking for furnace replacement Allen Park MI?
Is your furnace on the fritz? Do you think it might need replacement soon? One thing's for sure, you're definitely going to want to get in touch with our incredible furnace replacement specialists at AFM Heating & Cooling right away if you do! For close to 30 years, our technicians have been the go-to experts in furnace replacement for most than 5,000 domestic, commercial, and industrial property owners within the region, so there isn't anyone better to trust. Plus, we offer one-of-a-kind amenities we just know you're going to love. Offering 24/7 emergency support, for one, means never being left out in the cold when you're in a crisis – literally! Meanwhile, outstanding installation services will ensure your furnace replacement isn't a waste, guaranteeing it's set up to ensure optimal efficiency and cost-savings throughout its lifetime. We'll even give you a courtesy call when our furnace replacement technicians are on their way to make sure you're not stuck at home all day waiting when you could be out running errands or exploring beyond Allen Park instead. Essentially, whether you actually need a furnace replacement right away or not, you can trust that everything we do is to make your life better. Simply schedule your own estimate with AFM Heating & Cooling today to see for yourself!
We install RUUD brand furnaces, and we service nearly every make and model of furnace: Ruud, Tempstar, Rheem, Trane, Amana, American Standard, Carrier, Bryant, Lennox, Heil, Goodman, York and more.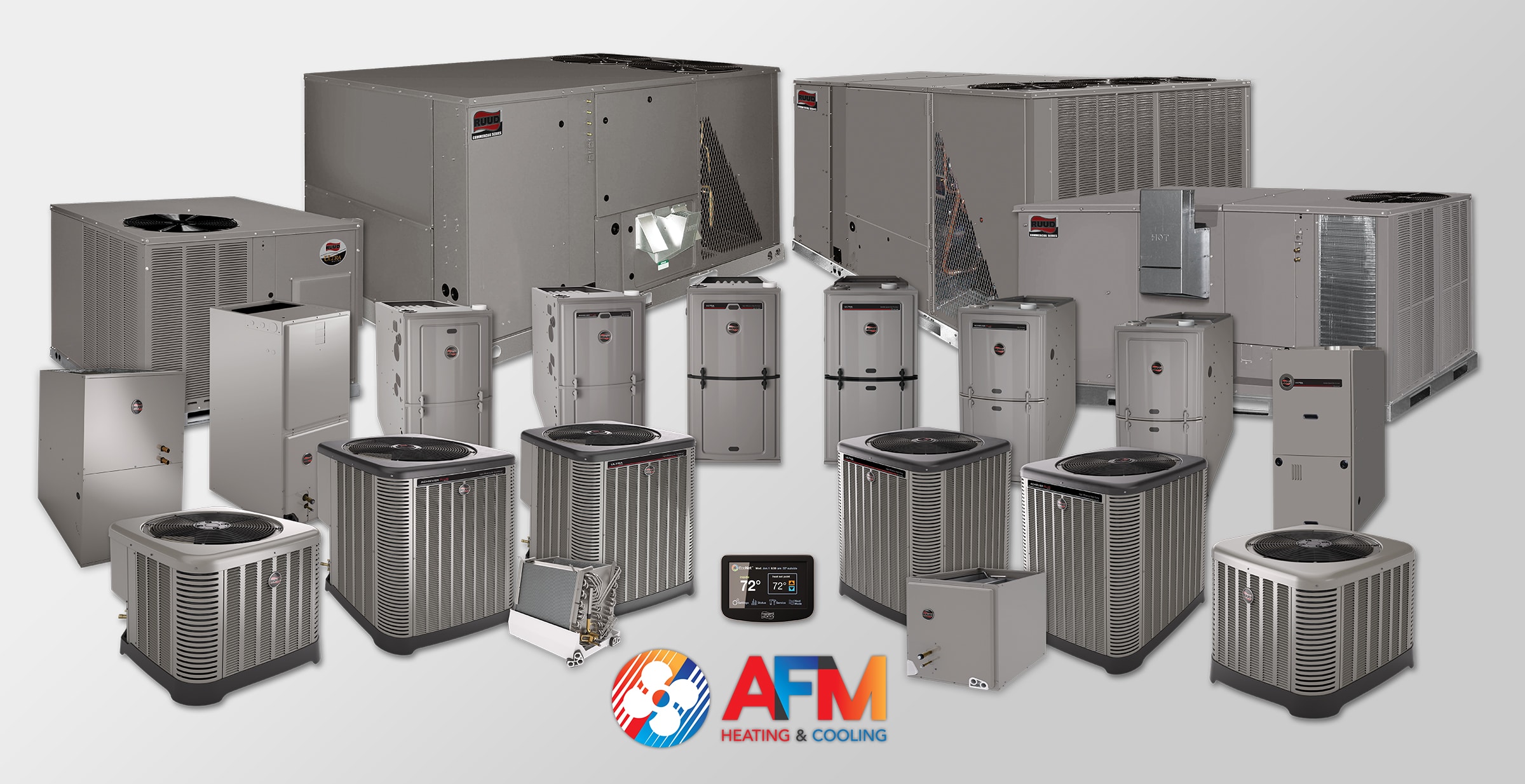 Furnace Replacement Allen Park MI
At AFM Heating & Cooling, we are beyond proud to offer Southeast Michigan's most comprehensive furnace replacement services to residents of Allen Park, MI. After all, Allen Park isn't exactly known for being home to ski lodges and other mind-blowing winter sports and activities. Instead, Allen Park is all about its rich history, great schools, and overwhelmingly thoughtful communal services. That means though, during the coldest days of the year, most people of Allen Park stay bundled up at home enjoying a little indoor rest and relaxation as often as they can. This, of course, this means keeping up with your HVAC demands is crucial to ensuring your life in Allen Park remains safe and comfortable through the season. In fact, if your furnace needs to be replaced and temperatures in Allen Park are already dropping, you're putting yourself and those you love at risk just by not taking action. So please, do not waste another moment wondering what exactly your HVAC units are up to. Reach out to our magnificent furnace replacement specialists at AFM Heating & Cooling today and let us come out to Allen Park and have a look for ourselves. We assure you, whatever the problems seems to be, we'll always do our best to offer you a solution that makes you smile!
If you are looking for experienced and top-rated furnace replacement Allen Park MI, call AFM Heating & Cooling today at 734.464.6700 for a free consultation, or simply fill out the form below:
Free Consultation on New Equipment*