Are you looking for furnace replacement Livonia MI?
If you're a native Michigander you likely already know just how dangerous the cold can be. Yet despite this, many residents of this beautiful state continue to disregard the one thing separating them from the frigid temperatures outside: their furnace. If you need a replacement, for instance, you might not even know it, and it could be costing you dearly every day. So, what do you do? Trust our reliable furnace replacement specialists at AFM Heating & Cooling of course! While our 24/7 emergency services might be a great resource in a pinch, we can make sure your furnace replacement gets taken care of long before it becomes a real problem, enabling you to save the most money. Plus, in addition to offering the most impressive inventory of new, high efficiency RUUD model systems, you can actually trust what our furnace replacement experts have to say. AFM Heating & Cooling has been the most trusted furnace replacement and HVAC support resource for over 5,000 private, corporate, and industrial properties across the area for more than 30 years! From helping you find the right furnace, to handling the hard labor of installing your replacement and keeping up with its maintenance, we do it all. So do yourself a favor and give us a call for an estimate today. We'll give you a call back as soon as we're in Livonia and on our way!
We install RUUD brand furnaces, and we service nearly every make and model of furnace: Ruud, Tempstar, Rheem, Trane, Amana, American Standard, Carrier, Bryant, Lennox, Heil, Goodman, York and more.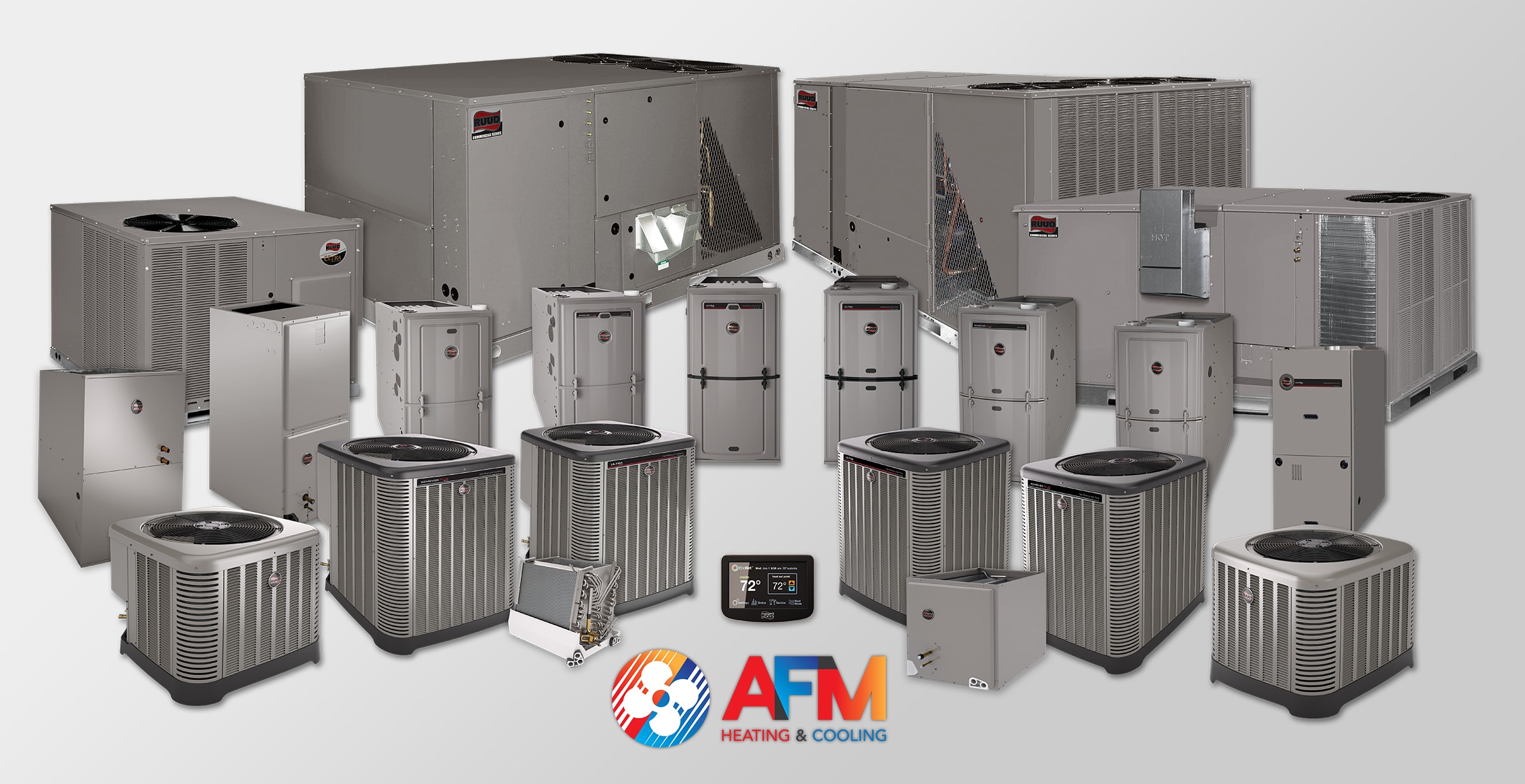 Furnace Replacement Livonia MI
At AFM Heating & Cooling, we are beyond proud to offer Southeast Michigan's most comprehensive furnace replacement services to residents of Livonia, MI. After all, of all the things residents of Livonia could be doing every day, looking after their furnace is often one that slips the mind. It's not your fault of course. Livonia is filled with a plethora of fantastic distractions! The Town Peddler, Greenmead Historic Park, Laurel Park Place, and Rotary Park in particular have always offered the residents of Livonia a well-balanced assortment of recreation. In fact, from its housing and local culture, to its communal amenities and professional prospects, everything about Livonia is, and has always been, well balanced. It's one of the many reasons it's considered such an amazing place to live. If you want to maintain your high quality life in Livonia, however, you have to be willing to put in a little work of your own. Your furnace, for instance, is a complex piece of machinery that controls the very comfort of your property – so you have to treat it right. If you don't, replacement may be in your future sooner than you think. Don't worry though, so long as you have our technicians at AFM Heating & Cooling on your side, you can ensure the optimal functionality and comprehensive efficiency of any property in Livonia you own without even giving it a second thought!
If you are looking for experienced and top-rated furnace replacement Livonia MI, call AFM Heating & Cooling today at 734.464.6700 for a free consultation, or simply fill out the form below:
Free Consultation on New Equipment*