Are you looking for a furnace replacement Westland MI?
If you've noticed it getting colder and colder, or your furnace is running non-stop and still failing to keep you warm, you need to reach out to AFM Heating & Cooling right away to inquire about a furnace replacement. Right now, we have an incredible assortment of high efficiency RUUD brand furnaces available for residential, commercial, and industrial properties of all sizes. Plus, our replacement technicians have been serving the varied HVAC needs of our more than 5,000 loyal clients for more than 30 years. That means, whether all you need is your new replacement furnace, or you're interested in installation and continued maintenance services as well, you can always feel confident in our vast abilities to satisfy your needs. We will even come out to Westland just to offer your peace of mind if we have to. Just sign up for your own no obligation assessment and we'll make sure you're in the loop as to exactly what's going on with your furnace, including if it's time for a replacement. Of course, all of our focus will be on making sure your furnace replacement saves you the most money all around. So, are you ready to help make your property more efficient in every way? If so, don't let another moment go by before you get ahold of our friendly furnace replacement technicians at AFM Heating & Cooling.
We install RUUD brand furnaces, and we service nearly every make and model of furnace: Ruud, Tempstar, Rheem, Trane, Amana, American Standard, Carrier, Bryant, Lennox, Heil, Goodman, York and more.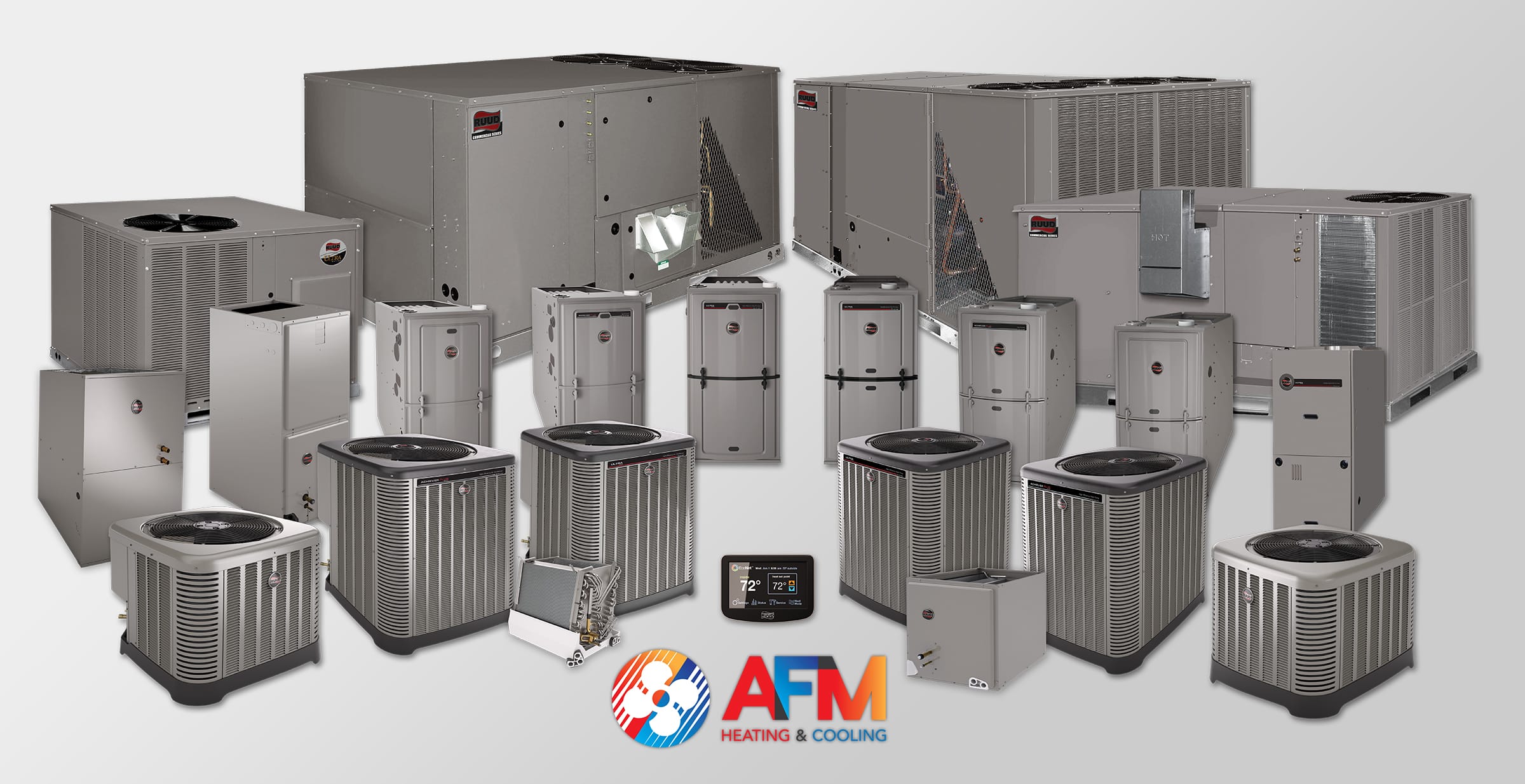 Furnace Replacement Westland MI
At AFM Heating & Cooling, we are beyond proud to offer Southeast Michigan's most comprehensive furnace replacement services to residents of Westland, MI. After all, this "All American City" known as Westland is one of the largest and overall nicest places in the county outside Detroit. From the Westland Historic Village Park that serves as a reminder of the city's past, to Hines Park and its grand potential for entertainment, you simply won't find another place like it. However, Westland isn't without its faults. While it remains a beautiful city with ample opportunity, like the rest of Michigan, Westland can get dangerously cold. Fortunately for you, that's where we come in. At AFM Heating & Cooling, we recognize that thoroughly caring for your HVAC systems means you get to spend more time having fun and taking charge of your life in Westland – so we do! We even offer emergency services and courtesy calls as well. Essentially, everything we do, from furnace replacements to routine checkups, is to prolong your safety, comfort, and savings. So please, put your property in Westland in our seasoned technicians' capable hands today!
If you are looking for experienced and top-rated furnace replacement Westland MI, call AFM Heating & Cooling today at 734.464.6700 for a free consultation, or simply fill out the form below:
Free Consultation on New Equipment*