Are you looking for air conditioning installation Dearborn MI?
Everyone hates unbearably hot, humid weather, especially when the air conditioning isn't functioning properly. That's why, before your home has the chance to turn into an oven, we urge you to consult with our outstanding air conditioning installation experts at AFM Heating & Cooling. Whether all you need is the installation services to ensure the maximum efficiency of your new air conditioning unit, or you're looking for your new system as well, we're certain our air conditioning installation specialists will exceed your expectations. How do we know? Well, our air conditioning professionals already satisfy more than 5,000 commercial and residential clients with our comprehensive services, and boast more than 50 years combined HVAC experience. And of course, there's no better time to get your air conditioning installation needs met than right now! So what do you say? By allowing our installation professionals to set up your new unit for your property in Dearborn, you're giving yourself the gift of true peace of mind. After all, proper installation is key to proper functionality, which is essential for optimizing energy efficiency saving money – so make sure you put your trust in AFM Heating & Cooling today!
We install RUUD brand air conditioners, and we service nearly every make and model of furnace: Ruud, Tempstar, Rheem, Trane, Amana, American Standard, Carrier, Bryant, Lennox, Heil, Goodman, York and more.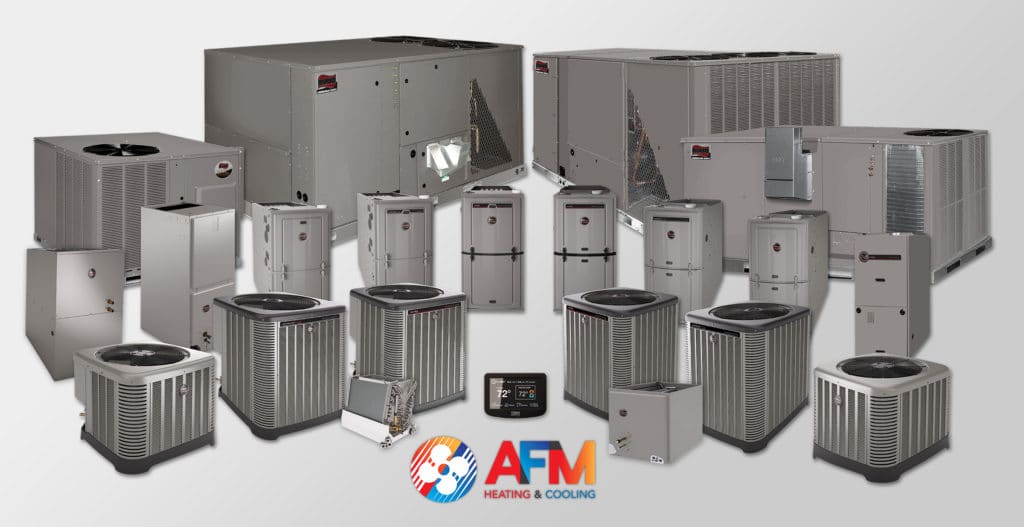 Air Conditioning Installation Dearborn MI
At AFM Heating & Cooling, we are beyond proud to offer Southeast Michigan's favorite air conditioning installation services to Dearborn, MI. Wayne County's prosperous city of Dearborn is definitely a great place to spend the summer. It's the eighth largest city in the state of Michigan, and home to the University of Michigan and Henry Ford College, as well as the nationally recognized Henry Ford Museum. In fact, although many people often consider the city of Dearborn and Dearborn Heights one place, residents of Dearborn know that their vibrant and culturally distinct community is well beyond compare. However, as neighbors, the two are still similar in a lot of ways. They both are visually stunning and offer incredible opportunities to their residents, they both are known for their diversity, and they're so close to one another that they basically share the same weather. Of course, the weather in both is typically beautiful and ideal for recreation. With an average humidity of 75% to 85%, things in Dearborn can feel a little too hot sometimes – but don't worry. Our air conditioning experts at AFM Heating & Cooling are trained to enhance and help you maintain optimal air quality in your property in Dearborn. Whether you need a new HVAC unit, or simply the installation services to help put yours in, we're always here for you!
If you are looking for experienced air conditioning installation Dearborn MI, call AFM Heating & Cooling today at 734.464.6700 for a free consultation, or simply fill out the form below:
Free Consultation on New Equipment*