Are you looking for a furnace replacement South Lyon MI?
In order to protect your family from the dangerous cold lurking just outside, you have to routinely make sure your furnace is fully functional; otherwise you may need a replacement and not even know it! Thankfully, our furnace technicians at AFM Heating & Cooling are always around when you need us. Whether you merely need a bit of advice about which furnace you should get to best suit your property, or you're ready to purchase your replacement and have it installed, we will help you make the most cost-effective decisions while still ensuring your health and comfort. After all, with more than 30 years of experience, more than 5,000 home and business owners trusting our services above all others, and an inventory full of high quality RUUD brand furnaces replacements, you can always count on us not to disappoint! Not sure whether your furnace is due for a replacement yet or not? Have one of our furnace replacement technicians out to South Lyon to have a look. Simply schedule a no obligation estimate and we'll make sure to give you all the information you need to know how to best proceed. If you do need a replacement, we'll even set you up with a maintenance plan to ensure its efficiency as long as possible – saving you even more money over time! All you have to do is choose AFM Heating & Cooling.
We install RUUD brand furnaces, and we service nearly every make and model of furnace: Ruud, Tempstar, Rheem, Trane, Amana, American Standard, Carrier, Bryant, Lennox, Heil, Goodman, York and more.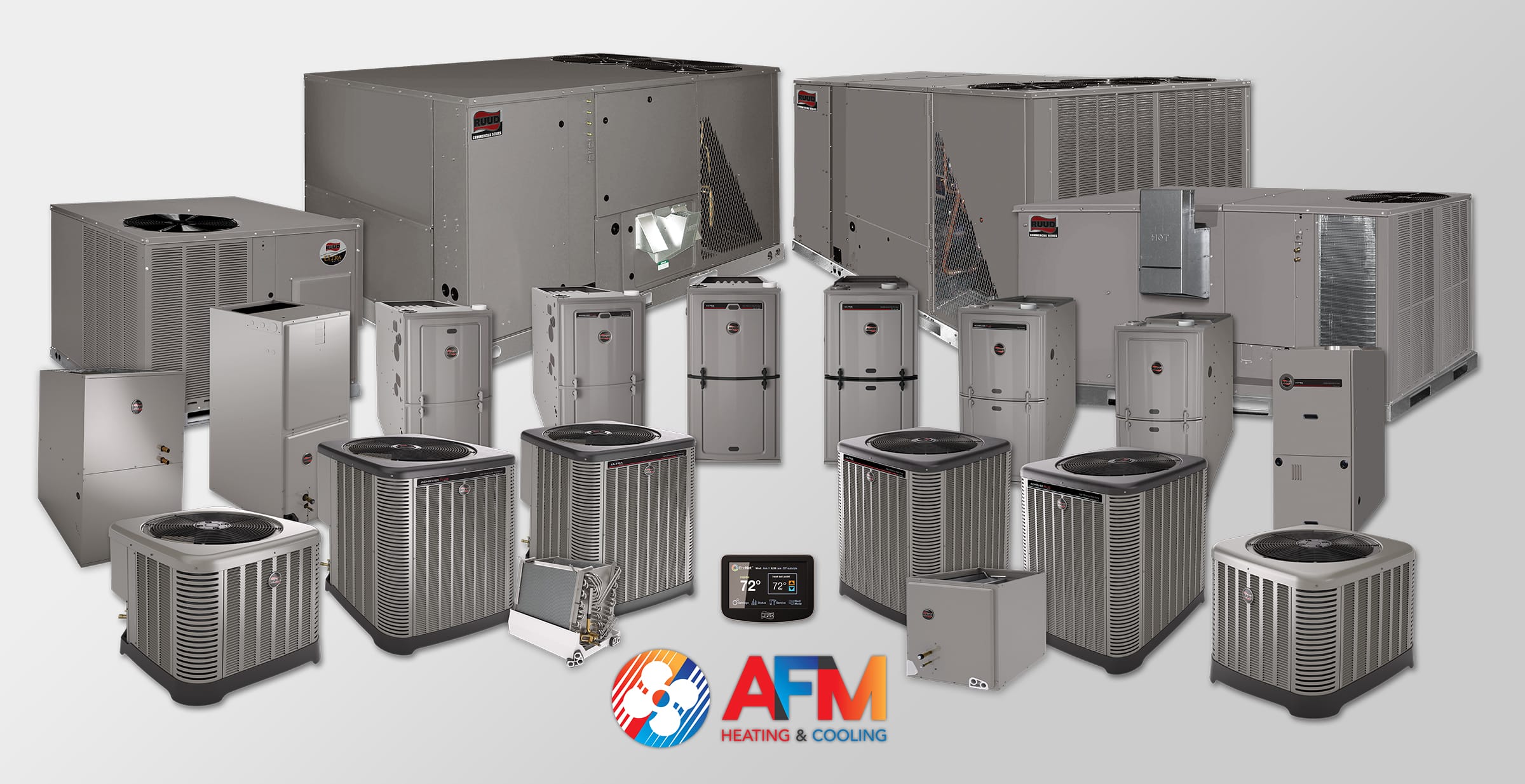 Furnace Replacement South Lyon MI
At AFM Heating & Cooling, we are beyond proud to offer Southeast Michigan's most comprehensive furnace replacement services to residents of South Lyon, MI. South Lyon may be known for its stunning outdoor recreation and overall natural beauty, but there's no denying it can get really cold during the winter. That means, while you may enjoy spending your summers exploring South Lyon's many surrounding parks and golf courses, or hiking along the Huron Valley Rail Trail, you have to take time to also ensure your heating elements are up to par in preparation for the season's changes. Life in South Lyon too busy? Invite our HVAC experts out to South Lyon to look after your systems instead! Not only will we give you a courtesy call every time we're in South Lyon and almost to your property, but we'll also ensure you feel completely confident in our honesty, reliability, and professionalism regarding your HVAC systems the entire time. Best of all, if there's ever a problem, we'll make sure the replacement you need makes it out to South Lyon as quickly as possible!
If you are looking for experienced and top-rated furnace replacement South Lyon MI, call AFM Heating & Cooling today at 734.464.6700 for a free consultation, or simply fill out the form below:
Free Consultation on New Equipment*