Are you looking for furnace replacement Farmington MI?
Needing a furnace replacement in the middle of winter is definitely not ideal, but it doesn't have to be a tragedy either. So long as you put your trust in AFM Heating & Cooling, you're choosing furnace replacement experts who are always ready to rescue you from any HVAC emergency, day or night. Our 24/7 emergency services guarantee it! Best of all, trusting our technicians also means you care about ensuring your furnace replacement is handled with the utmost skill and professionalism, since our team already has more than 30 years of experience with replacements, maintenance, repair, and installations. In fact, in that time, we've managed to amass a truly impressive client network that stretches across the region and consists of well over 5,000 private, commercial, and industrial property owners who all trust us with their comprehensive HVAC needs. Although, that might have something to do with our incredible selections of RUUD brand systems as well. Not sure what your furnace needs? Schedule an estimate for your property out in Farmington right away to find out! Whether you need a total furnace replacement, or not, our specialists at AFM Heating & Cooling will be there to answer your questions, offer advice, and provide overall guidance on how to maximize your system's efficiency as cost-effectively as possible! In fact, we'll even make sure to give you a heads up to let you know exactly when our furnace replacement team is on their way!
We install RUUD brand furnaces, and we service nearly every make and model of furnace: Ruud, Tempstar, Rheem, Trane, Amana, American Standard, Carrier, Bryant, Lennox, Heil, Goodman, York and more.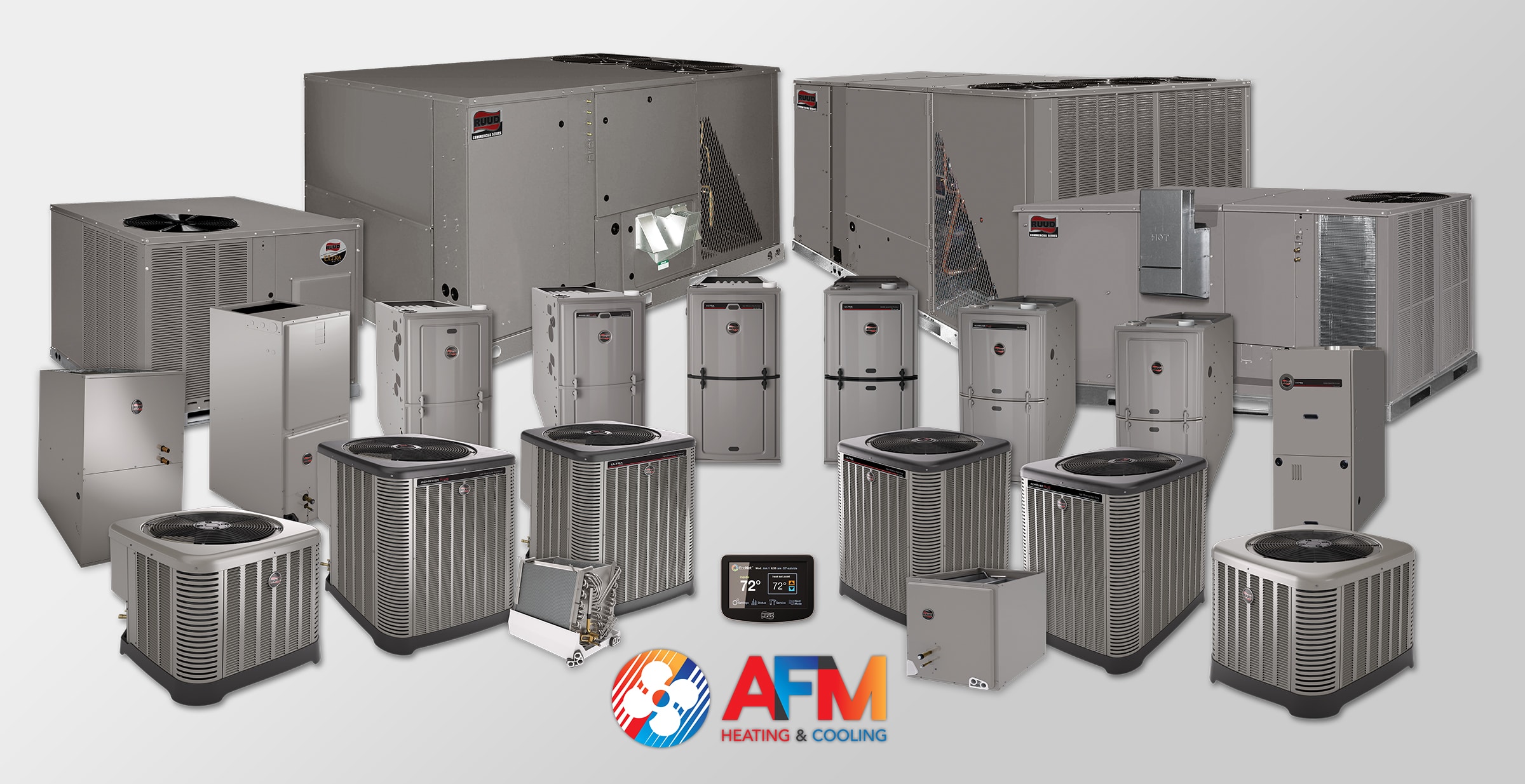 Furnace Replacement Farmington MI
At AFM Heating & Cooling, we are beyond proud to offer Southeast Michigan's most comprehensive furnace replacement services to residents of Farmington, MI. After all, who really has time to fuss over their HVAC systems when living in a place like Farmington? From the Farmington Historic District's picturesque aesthetic and top rated public school system, to the city's overall status as one of the best and overall nicest places in the country to live, Farmington has simply far too much going on for its residents to worry about their furnace's functionality and efficiency. The only problem with this is it can consequently lead to situations in which people throughout Farmington are ignoring warning signs and problems until it's too late and full furnace replacements are the only solution left. So, what do you do to make sure you're able to live your life in Farmington however you want without compromising your comfort or budget? Let our seasoned HVAC professionals at AFM Heating & Cooling handle everything! From making sure you choose the most cost-effective unit for your property, to ensuring a flawless installation, our quality services will guarantee you never question who the most reliable furnace replacement technicians in Farmington are again!
If you are looking for experienced and top-rated furnace replacement Farmington MI, call AFM Heating & Cooling today at 734.464.6700 for a free consultation, or simply fill out the form below:
Free Consultation on New Equipment*