Are you looking for furnace replacement Garden City MI?
When your electricity goes out after dark, all you need are a few candles. When your pipes freeze up, you can use bottled/stored water until your tap returns. However, if your heat goes out during one of Michigan's severe winters and a replacement furnace is your only hope, things can get dangerous for your family fast. While we do offer 24/7 emergency services, you don't want to wait until it's too late to worry about furnace replacement. Our technicians at AFM Heating & Cooling can be out to your property in Garden City in no time to give your furnace a thorough once over and let you know for sure if a replacement is in your near future. If it is, we'll then help you determine precisely which furnace model will best accommodate your property's needs from our incredible inventory of RUUD models, while still offering maximum cost efficiency. In fact, we'll even handle the installation, repairs, and maintenance thereafter as well. Whatever we can do to make your furnace replacement an effortless transition, you can count on us! So go ahead and schedule an estimate today. We've been inspiring confidence in private, commercial, and small industrial property owners – over 5,000 in fact – for more than 30 years already, and we're certain we can bring you peace of mind about your furnace replacement now. Simply reach out to AFM Heating & Cooling when you're ready, and we'll extend a courtesy call to let you know when one of our esteemed furnace replacement technicians is on their way!
We install RUUD brand furnaces, and we service nearly every make and model of furnace: Ruud, Tempstar, Rheem, Trane, Amana, American Standard, Carrier, Bryant, Lennox, Heil, Goodman, York and more.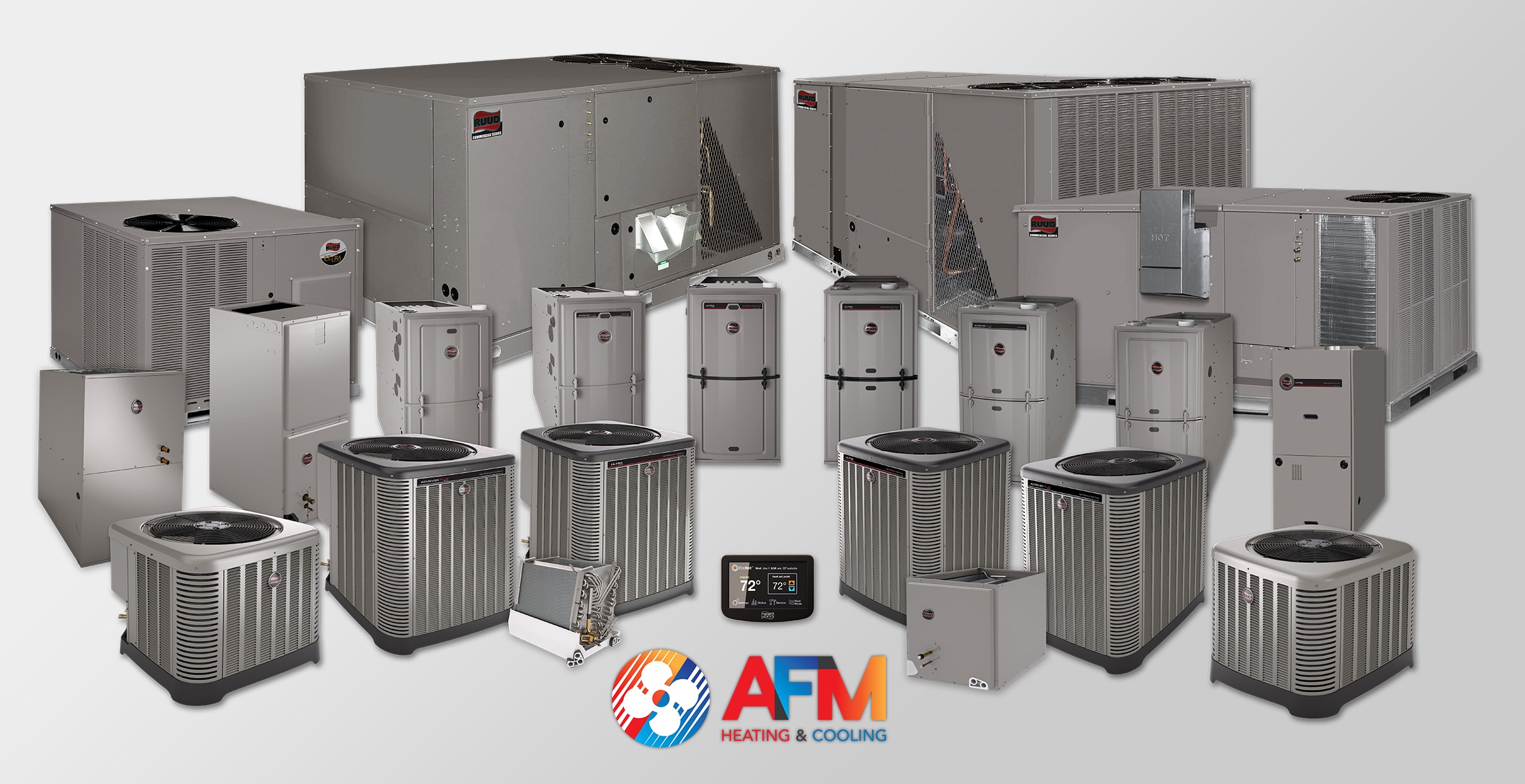 Furnace Replacement Garden City MI
At AFM Heating & Cooling, we are beyond proud to offer Southeast Michigan's most comprehensive furnace replacement services to residents of Garden City, MI. After all, with Garden City being practically right outside Detroit, residents have far better things to do than stress over something so easily manageable. It's simply all about the right timing. For instance, it's always the right time sneak out of Garden City for a bit of adventure. There are countless museums nearby, and exciting recreation to take advantage of. Plus Garden City is near Dearborn and Southfield as well, which opens up whole other possibilities for entertainment. When talking about furnace replacement, of course, the best thing you can do is leave the timing up to the professionals – which is why it's so important to have your HVAC systems inspected at least once a year. Just by having someone come out to Garden City annually to check on your system, you can save an untold amount of money. So please, do right by your property in Garden City, and your family, and choose our specialists at AFM Heating & Cooling when you're in a bind. We'll make sure you're so cozy back in Garden City you have a hard time leaving at all!
If you are looking for experienced and top-rated furnace replacement Garden City MI, call AFM Heating & Cooling today at 734.464.6700 for a free consultation, or simply fill out the form below:
Free Consultation on New Equipment*