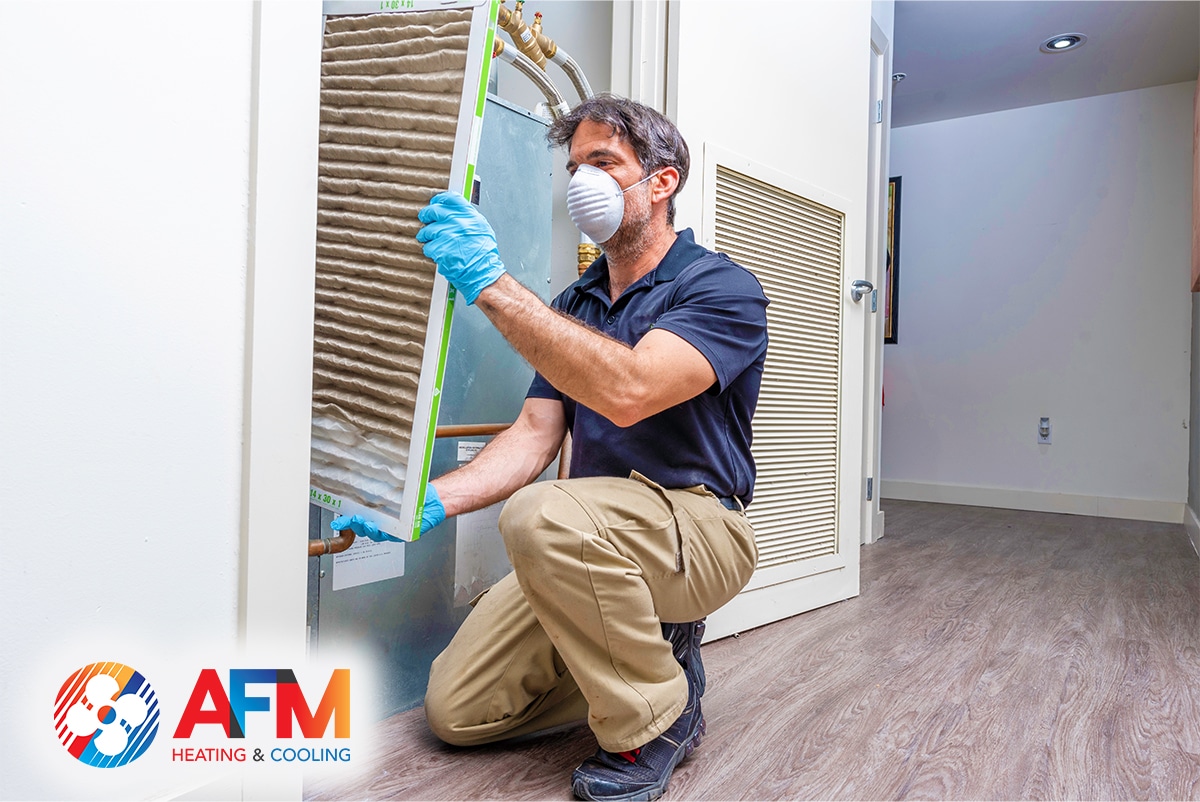 With misinformation about COVID-19 practically everywhere, and little to no conclusive facts to go on at this time, many people have been facing a lot of questions and fears regarding their own personal safety, and that of their loved ones. Here at AFM Heating & Cooling, we recognize how challenging and frustrating these uncertainties are, and are committed to offering you as much information and advice as we possibly can during these times.
Here's What We Know:
At this time, there is no definitive evidence or proof supporting the transmission of COVID-19 through any type of ducted HVAC systems. Viral experts studying this particular virus have agreed so far that a person must come into direct contact with an infected person, or touch an infected surface, to be exposed.
That being said, it is still theoretically feasible for COVID-19 to be airborne given the nature of viruses and their abilities to remain airborne for up to several hours by clinging to particulates in the air. However, even with this in mind, it's worth noting that experts are still very optimistic about the ineffectiveness of infectivity through HVAC systems.
There are steps you can take to protect your HVAC systems from COVID-19. However, it is vital that you remember to address all other areas of risk throughout your life as well to ensure successful avoidance of the virus, including limiting person-to-person contact and exposure to contaminated surfaces and/or materials. It's also crucial that everyone acknowledge the following advised measures are not guaranteed, and cannot protect you from the virus should you be exposed another way. You may also want to note that some mitigation efforts do have certain drawbacks that may be hard for some.
What Can You Do Now?
Purchasing higher efficiency air filters is a great first step for arming your property against COVID-19. Generally speaking, the higher efficiency a filter is the denser it is, meaning the more particles, bacteria, and other contaminants can be removed from the air before recirculation. However, simply upgrading to a better filter cannot eliminate all risk of contamination, and HVAC systems that are older/weaker will have a hard time forcing air through the denser filter, if it's able to accommodate one at all, which can lead to performance issues and increased utility costs. Plus you will have to change your filter more often, and if it isn't installed correctly it will not function properly.
Having air filtration systems that rely on ionization or UV light technology installed is another great option. UV systems have been using light to deactivate and kill various microbes, such as viruses, for many years with great effect. However, at this time, there is no confirmation that UV light is effective in eliminating COVID-19 specifically. The good news is, there is some traction to using ionizers to destroy the virus, so it's worth a shot if you're especially concerned.
Think you can stand the humidity? Recent studies have shown increased humidity can actually deactivate COVID-19 particles by damaging their outer membranes, not to mention moisten your own mucous membranes to fight off the virus – just be sure not to make things too stuffy or you'll risk damaging furniture and/or structural components.
Looking for a simpler solution? Try better ventilation, it will increase the fresh air flowing inside and dissipate any trace of the virus. The easiest way to do this is to keep a window open. Or, if that's not an option, you can invest in a more permanent HVAC solution.
Lastly, while this should be done every once in a while anyway to guarantee air purity and quality, having your systems deep cleaned and sanitized could remove any potential traces of COVID-19 that may be hiding out in the nooks and crannies of your HVAC/ventilation systems.
Interested in doing more to protect your property and loved ones from COVID-19? Get in touch with our devoted heating and cooling specialists at AFM Heating & Cooling today to discuss your property's unique needs, or schedule a no obligation estimate to get the specific answers you're looking for. Your health and safety remain our number one priority, so please, do not hesitate to inquire about all the ways our technicians are committed to ensuring your confidence with every visit! Call AFM Heating & Cooling at 734.464.6700 or simply fill out the form in the sidebar, today.