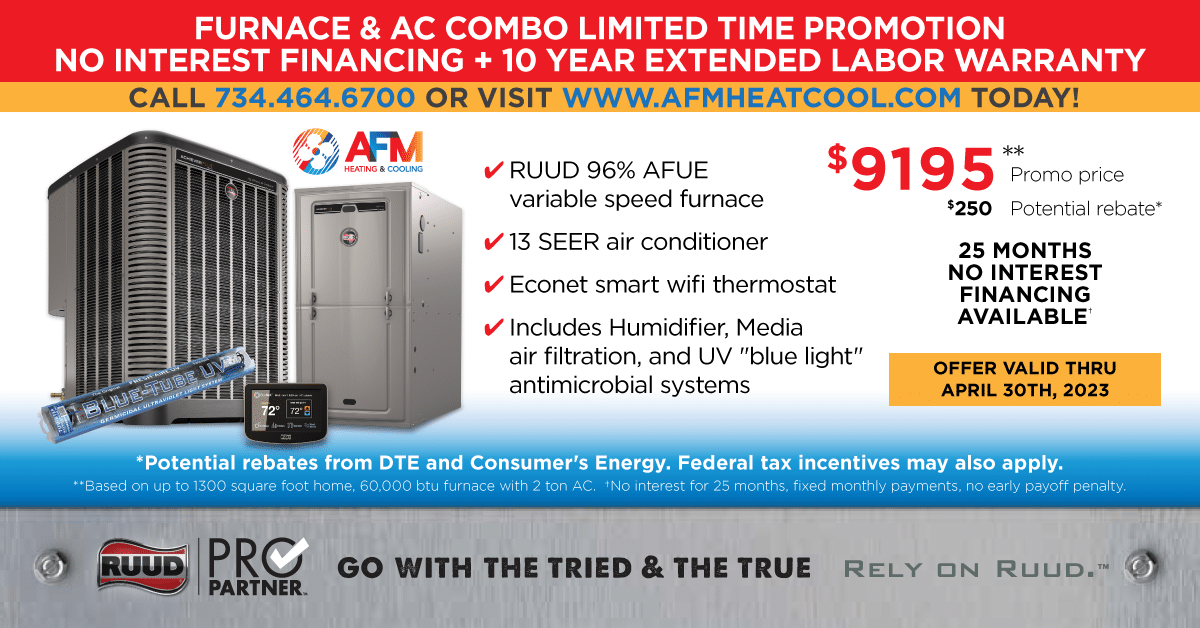 Limited Time Offer Expires April 30, 2023
Winter is here, and spring of 2023 is rapidly approaching, and you know what that means. Our winter and spring 2023 specials here at AFM Heating & Cooling are going on! This year, our deals include a new furnace and AC combo with no interest financing and a 10-year extended labor warranty. You'll have to act fast, though. This limited-time promotion won't last long!
If you didn't get the opportunity to opt-in for our incredible savings last year, now's your chance. Whether you've been experiencing signs of significant wear and tear on both your HVAC systems or merely one of your heating or cooling units is acting up, replacing both right now is your best chance at securing some serious savings in the coming years. Investing in a quality pair of brand-new, equally efficient HVAC systems can dramatically enhance your property's overall HVAC performance, boost the value of your property, reduce your energy costs, and even grant you access to some of the industry's latest and most convenient HVAC features, like the Econet smart Wi-Fi thermostat.
So, how do you start benefiting from these amazing heating and cooling systems? Get in touch with our HVAC specialists at AFM Heating & Cooling! Through April 30, 2023, you can receive a new 13 SEER air conditioner, a RUUD 96% AFUE variable speed furnace, and the innovative Econet smart Wi-Fi thermostat for less than $9,200 with no interest financing for 25 whole months. The built-in humidifier, media air filtration, and UV "blue light" antimicrobial systems will have your home feeling fresher in no time. Best of all, that low price doesn't include any additional rebates or federal tax incentives you can potentially claim by switching to higher-efficiency HVAC systems.
While the chance to claim up to $250 in rebates should be enough to convince you that upgrading is naturally the right choice, the list of benefits for taking advantage of this offer is endless. There are no penalties for paying off your systems early, better heating and cooling systems mean better air quality for you, you'll experience ample savings throughout the year, plus you'll have unlimited access to our team of trained heating and cooling technicians. Whatever maintenance or repairs your units need throughout their lifespan, AFM Heating & Cooling is here for you!
To take advantage of this incredible limited-time winter and spring 2023 promotion at AFM Heating & Cooling, reach out to one of our skilled HVAC specialists and order your new furnace and AC combo before April 30, 2023 today by calling 734.464.6700 or fill out the form in the sidebar!